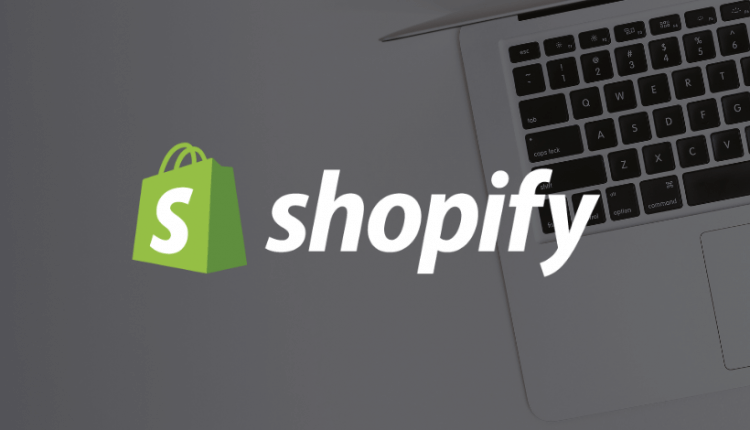 What is Shopify? How to sell on Shopify?
With the rise of eCommerce platform, creating a website for selling and buying virtually has never been easier. For those who are considering making money online, Shopify might be the best choice. In this post, we will take a look at what Shopify is, and how you can use it for your business advantage.
What is Shopify and how does it work? 
Shopify is an e-commerce platform belong to the same name company. Founded in 2016, they have grown into one of the most popular choices for online merchants. The company offers a subscription-based eCommerce service. What this means is that Shopify gives you a creation kit to create an online selling website, complete with everything set up and functional right out-of-the-box.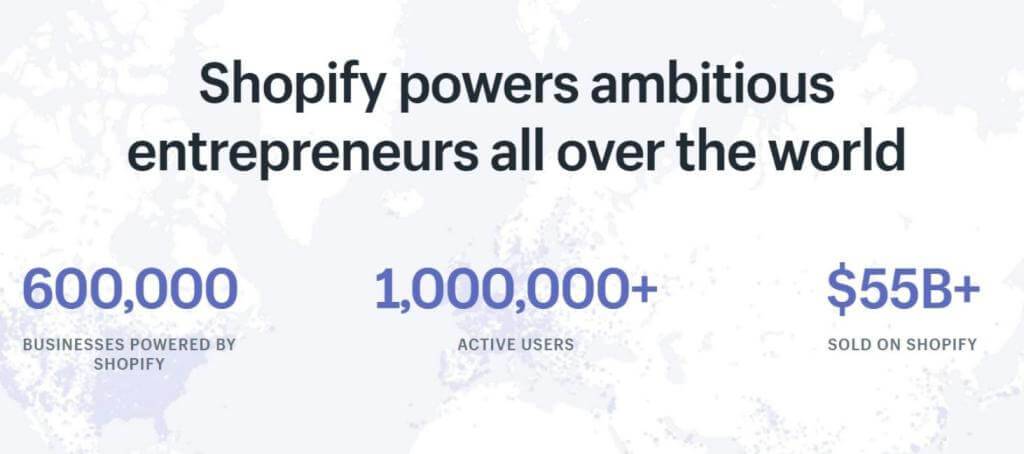 Besides the online platform, Shopify also has a point-of-sale system for brick-and-mortar retailers. However, we will only talk about the online one in this article.
The best feature of Shopify is definitely how user-friendly it is: you can set up and customize an online store without any coding knowledge needed. With Shopify, you can focus on thinking of what to sell and how to market it while letting the platform handle the heavy parts such as web hosting, inventory management and payment system.
The basic of a Shopify store
A typical Shopify store consists of two parts: back end and front end. 
The front end is the "normal" version customers see when they visit the store. Everything shown on the front end is controlled from the back end (or the admin panel), which can only be accessed by the owner of the shop. From the back end, the owner can also fulfill orders, manage their products and create discount codes.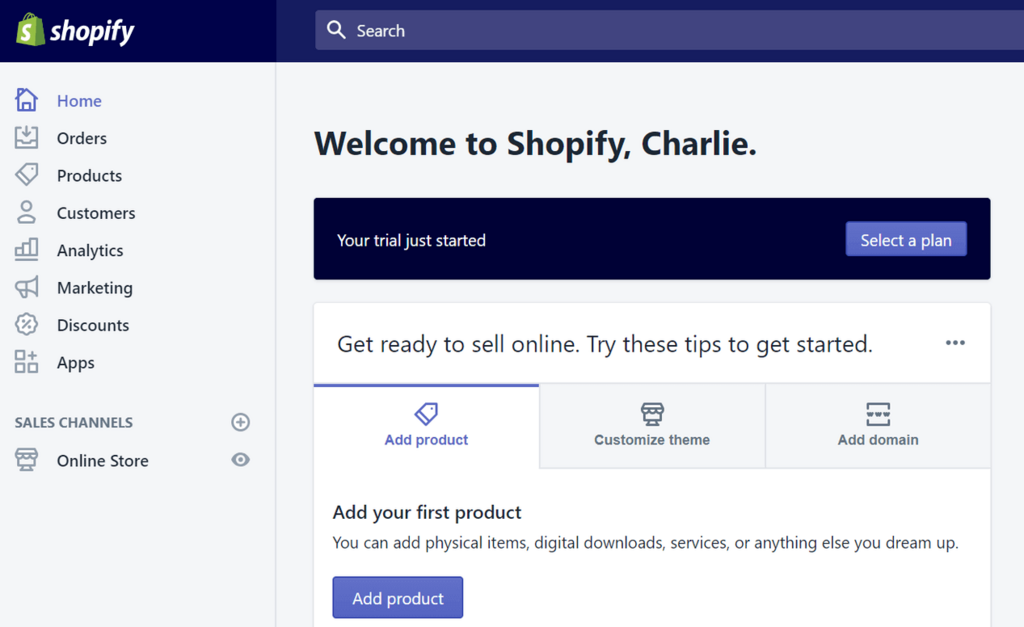 Apps and themes
As different businesses have very different needs, Shopify has an App store with more than 2000 apps (as of 2019) that offer a wide range of store customizations. From back end operation to conversion rate optimization plugins, almost everything can be found on the App store. In addition, Shopify ensures that all app developers give active support for their apps to stay listed. So if you install from the official store, you are in good hands.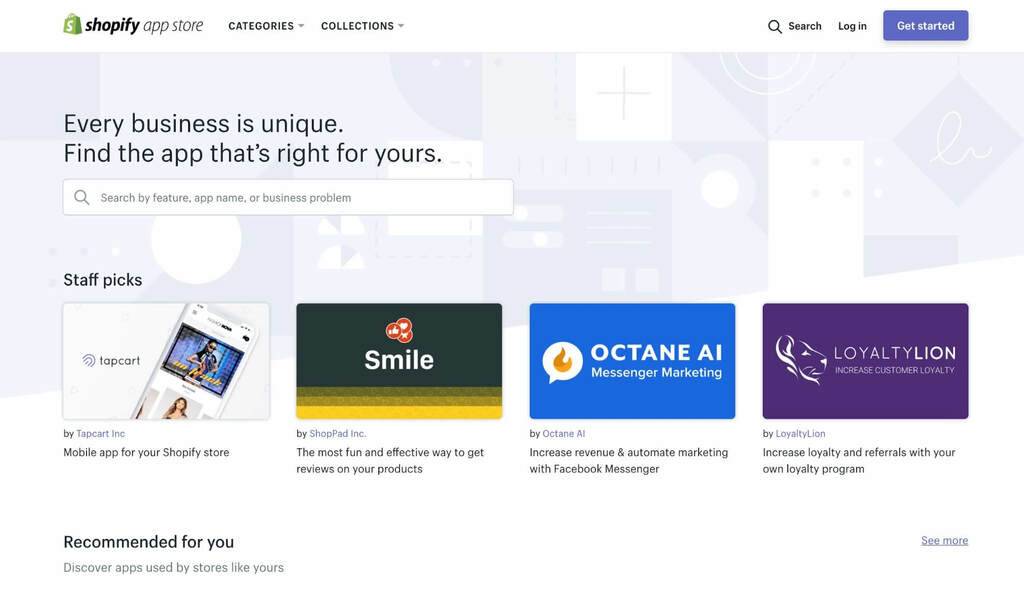 Theme is another big part of Shopify flexibility. They are pre-made templates that heavily customize a store appearance without your having to touch the source code. By installing a theme, you get a storefront tailored to your niches specific needs. There are currently 72 themes available on the official theme store and close to 900 themes on themeforest.net.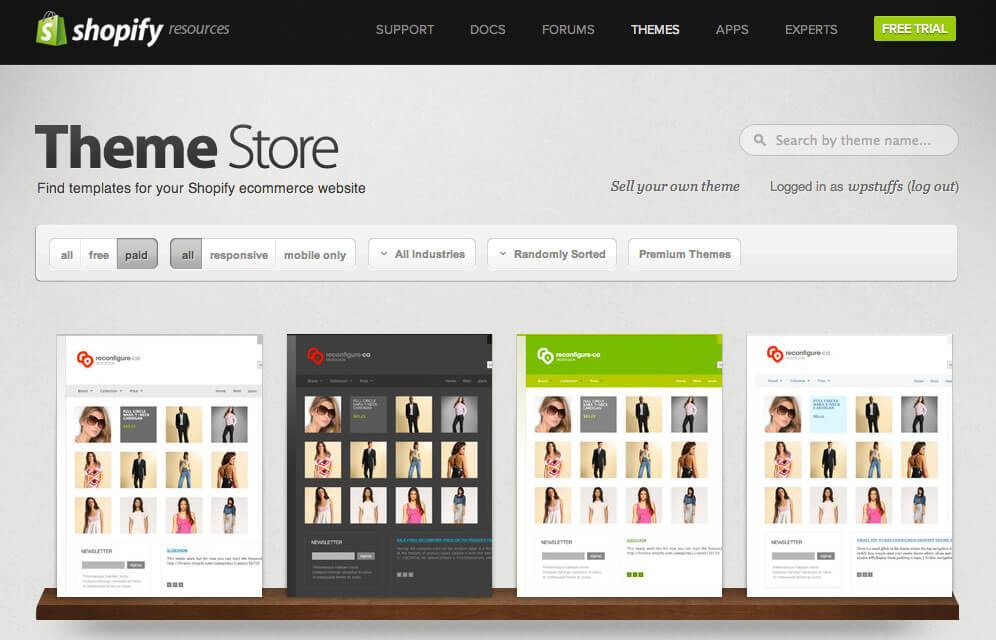 Compare Shopify & WooCommerce
Quick Overview of WooCommerce
Beside Shopify, Woocommerce is another popular choice when it comes to building an online store. If Shopify is a complete platform, WooCommerce is a free plugin for WordPress. This means you need a WordPress-powered website to use WooCommerce.
Like Shopify, WooCommerce allows you to build a site for selling online. Being an open-source plugin, WooCommerce is free for everyone to download, customize and use.
Having been around since 2011, WooCommerce has its own collection of themes and extensions that amount up to more than 1500 themes and thousands of add ons. However, not all of them are fully functional and up-to-date.
Shopify & Woocommerce – Which is for you?
The question here is not which platform is better, but rather which one most suitable for you. Below we will have a comparison between the two so you can make a better-informed decision.
Shopify 
WooCommerce 
To get started, you need

A domain name (optional but strongly recommended)

A Shopify store plan

Hosting and a domain name

A WordPress-powered website

The WooCommerce plugin

A WooCommerce compatible WordPress theme

Pricing

Main plans:

Basic: $29 /mo

Shopify: $79 /mo

Advanced: $299 /mo

Lite: $9 /mo (sell on social media and existing website only) 

Discount: 

14 days trial, no credit card required

10% annual plans, paid upfront

20% biennial plans, paid upfront

Free. Just download and install

Support

24/7 support

: email, chat and phone

An active

forum

and detailed

documentation

Help ticket

FAQ and documentation

Learning curves from scratch

Small

Relatively steep

Major advantage

User-friendly and easy to use.

Everything back-stage has been taken care of for you. No need to worry about SSL, security or scaling. 

Full control over your website.

Since you are responsible for your own hosting, you don't have to worry about getting your shop shut down suddenly.

Transaction fee

Free for Shopify Payment.

Third-party gateway: 

2% for Basic

1% for Shopify

 0.5% for Advanced 

Free.

Bank and third-party payment providers charge as usual.

You should use if

You have little to no experience setting up a commerce website

You need a website up and running in a short time

You don't want to deal with complicated set-up and site maintenance.

You have relatively good technical knowledge and know how to solve problems on your own.

You are willing to invest in site maintenance and hosting

You want full control over your site and very specific customization.
How to sell on Shopify?
Getting ready
To start selling on Shopify, you'll need a Shopify plan and products to sell, simple as that. Below, we will see how you can do it step by step.
Step 1: Determine what to sell
If you already got an idea of what your products are – great! In case you don't, here are a few popular choices:
Fulfillment by Amazon (FBA)/ Private Label: If you already have an Amazon account, you can turn your Shopify store into a secondary selling channel. This method is popular with merchants who sell soap, fitness supplements, food or cosmetic products. When an order is placed on Shopify, it will be sent to Amazon for fulfillment.
Dropshipping: One of the most popular options with Shopify. Basically, you act as an intermediary between suppliers and customers. You put up the products on your store and tell the suppliers to ship the products straight to your customers when there is an order. As such, you are free from handling storage and shipping. On the other hand, finding the winning products requires a great deal of market and product research.
T-shirt auto fulfillment: Instead of using Print-on-demand platforms like Teespring or Printful, you can move your T-shirt store to Shopify entirely or have the two integrated. This helps negate the fierce competition and give you more control over your shop.
Your own homemade products: If you feel Esty marketplace have too many restrictions then Shopify is a perfect place to start growing your unique store
>> Read more: Trending products 2019 for Shopify dropshipping
Step 2: Buy a domain name
This is not required to set up a Shopify store, but it is strongly recommended. Having your own domain rather than the standard "examplestore.myshopify.com" helps earn trust and better represents your store. It will also become a vital point in building up your brand name later. Furthermore, you can easily find a .com domain name for about $10/year online, so it is a worthy investment that is not too costly to do.
As a note, you can buy a domain name right through Shopify. The price here is a bit more expensive than other providers. However, it comes with the perk of simplifying the process of domain connection later on.
Tips: Make your domain name relatable, easy to understand and remember. A domain like "shirtforgeek.com" is much likely to stick than "sfgMstore.com"
Step 3: Open a Shopify account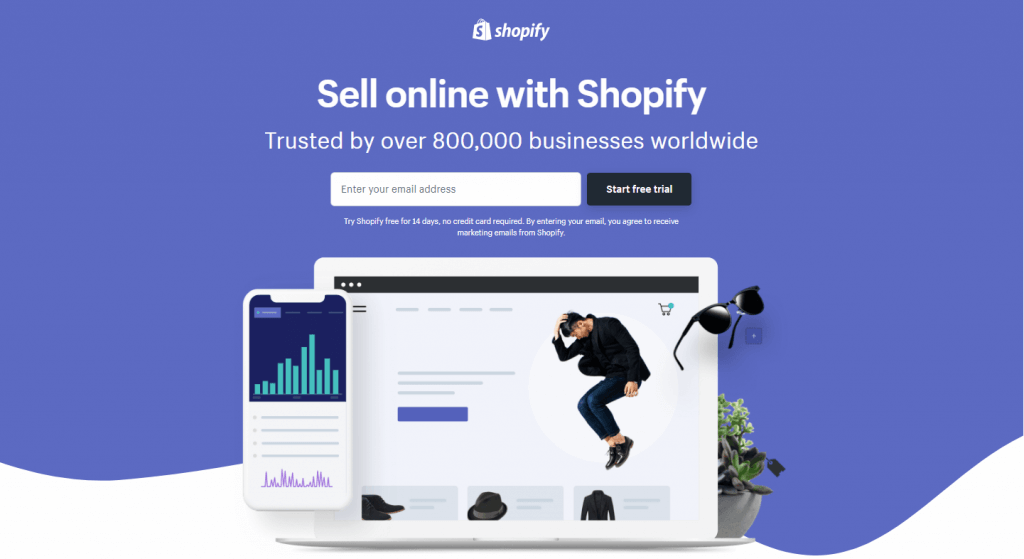 You can register to open your store by going to this page:
You will start with a 14-day trial first. Since no credit card information is required yet, you don't have to worry about it. All of the sign up can be done under 5 minutes.
Step 4: Set up the storefront and products
After your store is created, you can now connect the domain name you bought to the store. The process is straightforward, but here is guide just in case.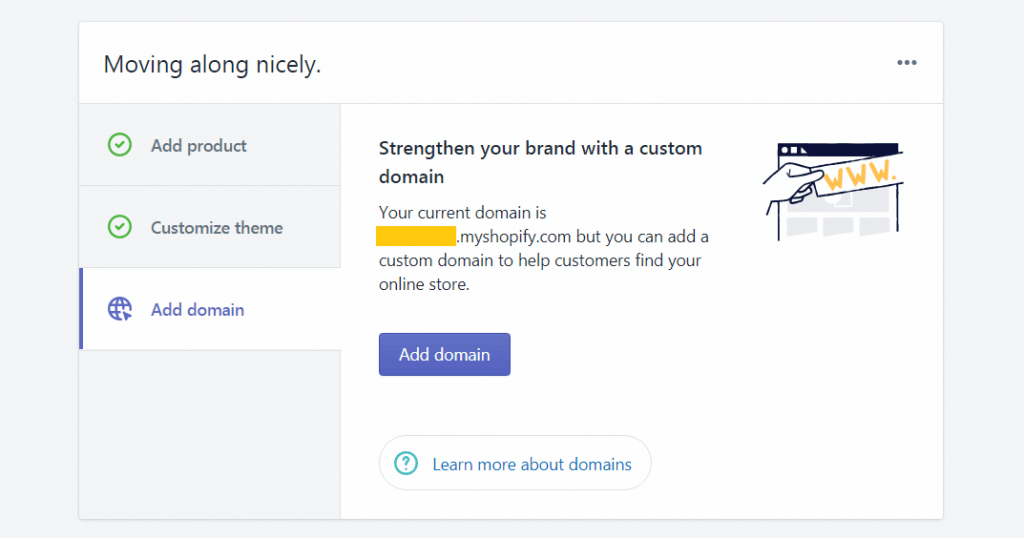 Next up is decorating your storefront. As mentioned before, you can find many free themes on Shopify theme store. All you need to do is fill in the content and images.
Finally, you can start adding your first products. The interface is pretty self-explanatory (again, Shopify is very user-friendly). If you still want a step-by-step guide of how to add, update and delete products, it can be found here.
Tips: Image is a big part of getting a sale so make sure your images are eye-catching and attractive. One "hack" is to have a clean white background – it's easy to do yet looks professional.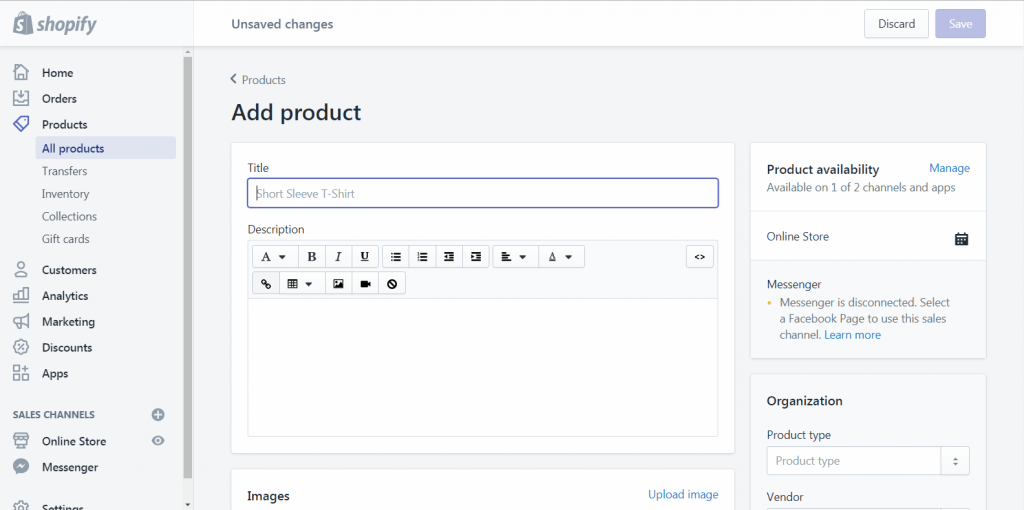 Once you have published a product, it will appear on the storefront and customers can buy it right away.
The real headache is attracting the right traffic to your store and optimized customer experience so that they don't have any trouble buying from your site.
Attract the right traffic
First, find out where your customers are. Is your product the type people buy without thinking about it too much(impulse buy) or the opposite? Do your potential customers most active on Facebook or LinkedIn? Afterward, you can decide on what channels will be your main traffic source.
Besides mainstream platforms such as Facebook and Google ads, you can keep an eye out for unconventional sources as well. For example, Shopify shop owners can earn extra visitors from other stores by doing ad exchange with Instant Traffic.
In general, paid ads on social media are for quick, instant traffic and they are most effective for impulse-buy goods. On the other hand, content marketing and SEO take time but they are good for building a brand name in the long run. Both strategies can be used at the same time, it's just that you need to decide how much to invest in each and at what time.
> Read next: How to drive traffic to your shopify store
Optimize customers experience
After having a stable flow of traffic, you can start analyzing to see what types of visitors bring the most profit and optimize your shop to increase the conversion rate. This is where A/B testing and Page customization come into play.
Even if you don't have enough traffic yet, there are best practices every store should follow. For example: having fast loading speed, responsive design, fast checkout and good product description. Shopify themselves provide a pretty intensive guide on this matter that beginners should take a look at. Furthermore, there are free apps you can make use of to fasten this process, such as Instant Upsell which automatically promotes coupon codes on the corresponding product pages.
In conclusion
Shopify is a great tool to build an online store both for those uninitiated and the experienced. Its pre-built package provides all the essential features out of the box that can be easily customized later on for advanced use. Without having to worry about the heavy technical work, you can focus on the more important tasks of drawing in customers and optimize your shop for the best experience.