How To Upsell On Shopify Like A Pro
The customer journey doesn't necessarily need to end at making a purchase. For each sale, there is an invisible cost of opportunity when you can sell more than what the customer has already put into cart. Upselling is one of the ways for you to get that invisible profit. Lets find out with us " How to Upsell on Shopify like a Pro? "
What is Upselling?
Upselling definition
Upselling is when you introduce the customers to an upgraded version of what the customer is considering buying in the hope of raising the values of the purchase. In reality, this sale technique very often goes hand in hand with cross-selling to maximize the profit. 

Upselling is a very ancient sale technique that has been carried out and elevated to an art by brick-and-mortar stores for decades. There are a lot of creative ways upsell can be carried out. Fun fact: do you know that Starbuck has a "Short" size on their menu? There is, it is just hidden. Starbuck unlisted the Short size and changed their menu design so that the previously biggest size "Grande" became the middle item. What happened was that people actually start picking the pricier Grande more often instead of sticking to the "Tall" size they used to order. 
For eccommerce, where 40% of revenue comes from 8% of customers, making the most out of your hard-earned traffic is vital. Therefore, upselling is a widely-used tactic. If done well, upsell will lead to a significant increase in profit with the same cost for customer acquisition. Businesses that implement upselling and cross-selling can see as much as 10% uplift in revenue.
What is the difference between upselling and cross-selling?
I have mentioned above that cross selling very often goes with upselling. So what is cross-selling and what makes it different to upselling? Can the two terms be used interchangeably?
Cross-selling is also a sales tactic to raise the value of a purchase. It is done by suggesting to the customer new products that accompany the item they want to buy. Even though they are alike, cross-selling and upselling is not the same thing.
If upselling is about trying to get the customer to spend more on the same thing they want, cross-selling is about getting them to spend more on different things that relate to the original product they bought. Here are some more examples of cross-selling and upselling for comparison: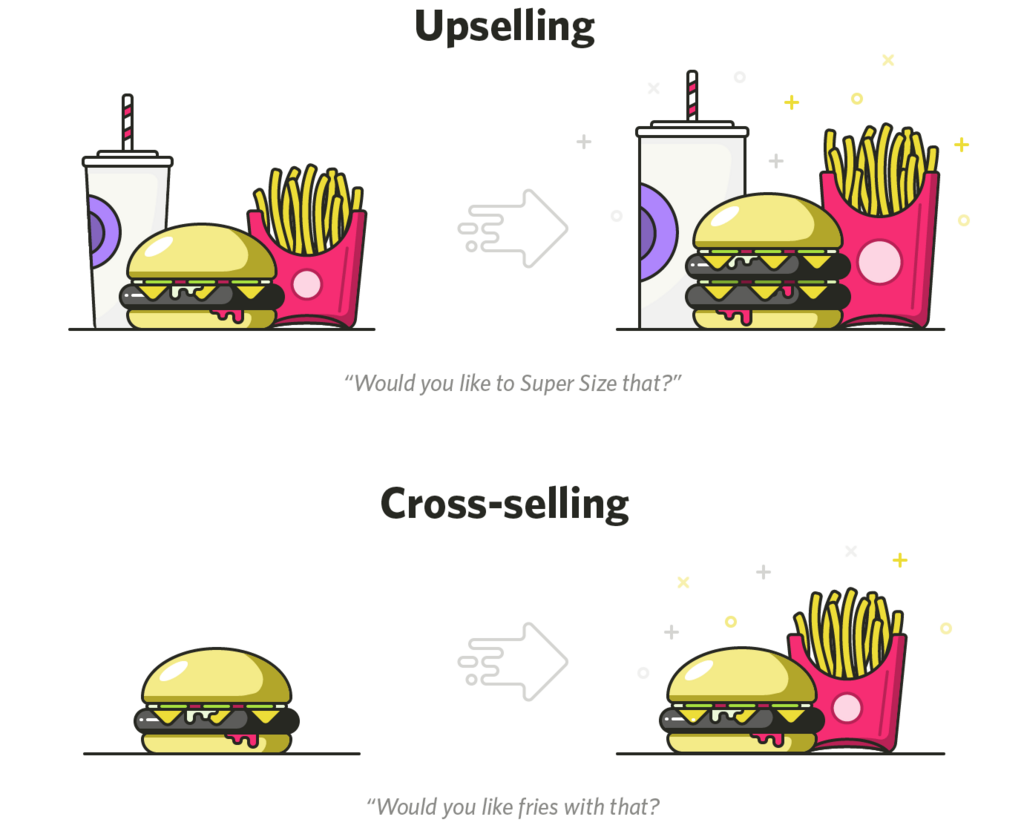 Upselling:
An electronic retailer suggests to the customer who is looking at a $500 laptop a $550 laptop with a better CPU and graphic card.

A florist offers her customer a bigger bouquet with more flowers and decoration.

A clothing store introduces a customer who wants to buy a Tshirt to a Tshirt with the same design, but with better material.

An airline offers passengers the option to buy business-class tickets and get more legroom.
Cross-selling:
An electronic retailer suggests to the customer who is looking at a $500 laptop a headphone and a wireless mouse to go with the laptop.

A farmer sells a cow, then proceeds to sell the customer the equipment needed for the cow such as a halter and a rope.

A florist offers her customer a vase to goes with the bouquet they bought.
Upsell Strategies & Tactics on Shopify in 2019
Approach:
When incorporating upsell into your store, there are several factors you need to keep in mind:
Be considerate

: What do you think of the customer finance capability? How much can they afford to pay for your product at most? Normally, the suggested upsell product should not cost more than 25% of the original price.

Be reasonable

: Pitch an upsell that is truly relevant and beneficial for the customer.

Be subtle

:

Don't go overboard with your popup and notice. Doing so will put your very own relationship with the customer at risk.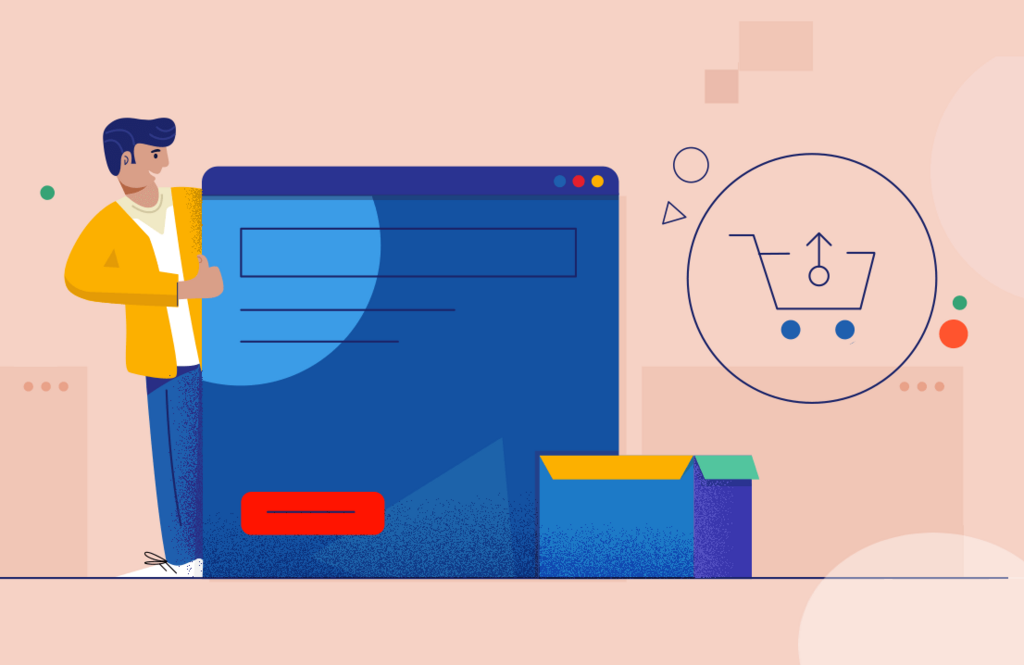 Tactics:
Upgrade at a discount: Offer a better option at a discount.

Free shipping from a certain amount: Set a certain spending goal in exchange for free shipping to encourage customers to buy more

Live chat: Your support team should also be able to do sales. Have an agent always available on your store and ready to give sale consultant to the customer.

Personalized product recommendations: You could offer the upgrade option as a suggestion to help customer chooses. Dell, for example, has a small "Dell recommended" section where they introduce higher-end option for customer browsing for a computer. Other forms of this tactic are "Other people also bought", "Save more when bought in bundle package" or the classic cross-sell "Frequently bought together"

Post-sale email: You can send an email after the sale to thank for the purchase and introduce new items for the next time.
Best upsell apps for Shopify
With the help of these apps, implementing upsell in your store will be much easier and quicker. However, remember that automation can't do all of your work.
Tips: Keep it simple and pick just one or two upsell tools and stick with them. Having too many will harm customer experience and make it hard for you to track down the efficiency of each app.
Instant upsell 
Instant Upsell is an Shopify one click upsell app that automates coupon promotion in your store.
Features:
Make use of your existing traffic for coupon promotion.

Automatically show an offer based on available coupons and which products page customer is on.

Offers are shown as announcement bars on top of the page.

One-click code synchronization from store backend.
Plan: Totally free!
Code Black Belt – Frequently Bought Together
An app that creates a recommendation section like the one seen on Amazon.
Features:
Customer can see the recommended products and add them all to cart with one click.

You can manually set which products get recommended with which, or let the app do it for you.

Wide-range customization of recommendation bar.

Show rating and price comparison.
Plan: $6.99/month with 30 days trial.
AutoCommerce – Upsell Recommendations

Another app for creating Amazon-like personalized recommendations.
Features:
3 widget placements: Homepage, Product page and Cart page widgets.

3 recommendation algorithms: best sellers, category best sellers, intelligent product recommendations (including popular items, most expensive products, you may also like these items, products recommended for you).

Require a bit of digging in the store code. Don't worry, it just stops at simple copy and paste. Nothing complicated.
Plan: Free
Hextom – Free Shipping Bar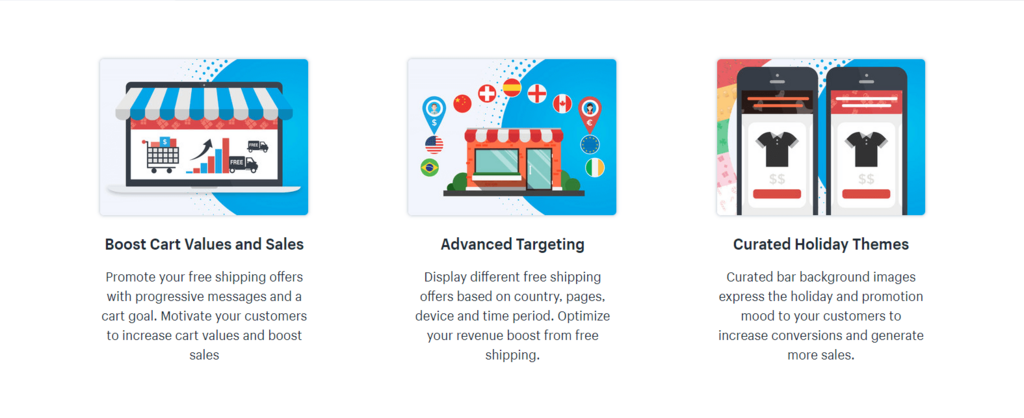 An app that shows the customers how much more they need to buy to get free shipping.
Features:
Show a free shipping goal bar on pages of your choice. It tells how much more spending left until you reach free shipping.

You can customize the bar however you want.

Target the bar to show on only certain page and users
Plan:
Free: One active bar at a time, Bar customization

Premium($9.99/month): Unlimited active bars, Detailed bar targeting, Bar scheduling
Conclusion
Upselling does not necessarily be all about the seller. When done right, upselling will not only increase your profit but also bring a satisfying experience for the customer. It should be used as an additional feature that enhances your whole store in general.