Google Ads For Shopify – The Automated Marketing Solution From Instant Traffic
Remarketing is one of the most effective ways to connect with visitors who have visited your website but have not yet achieved the desired conversion goal. With the new feature – Google Ads for Shopify, Instant Traffic will let you run effective remarketing campaigns for customers who have visited your website through more than 2 million Google Display Network websites.
Remarketing through Google Ads
Remarketing through Google Ads is a great tool that allows you to show ads to visitors who have visited your website before any time, anywhere on Google or the Google Ads Network.
However, setting up remarketing ads through Google Ads is often very difficult. The two required requirements when you set up remarketing with Google Ads are the Google Merchant Center and Google Ads accounts.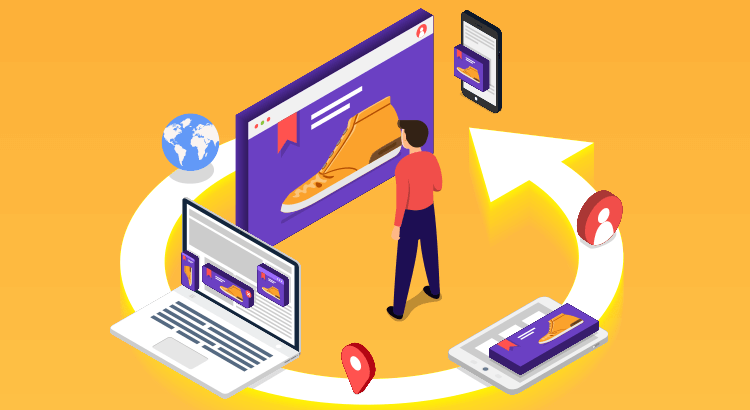 Once they are set up, the advertiser needs to create Remarketing Tags and deploy them on the site with the correct parameters. Manually editing the theme files is the only manual way to do this, but it often leads to a lot of errors.
With Google Ads for Shopify feature of Instant Traffic, you don't need an Adword account or log in and manipulate directly with Google Ads. Everything will be manipulated solely on Instant Traffic and the rest will be done automatically.
Your Google Ads ads will be displayed as GDN ads (display banners) or Responsive Ads ads (display images, titles, logos, videos, and descriptions). From there, help merchants increase brand awareness and remind customers about abandoned shopping carts effectively.
Reaching old visitors has never been easier with Instant Traffic.
Maximize conversion value
Instead of trying to seize as many conversion opportunities as possible without regard to cost, Instant Traffic will help you maximize conversion value effectively with Google Ads.
Google Ads Shopify from Instant Traffic is based on store revenue metrics like profit margins or sales revenue to optimize according to conversion value based on your daily budget.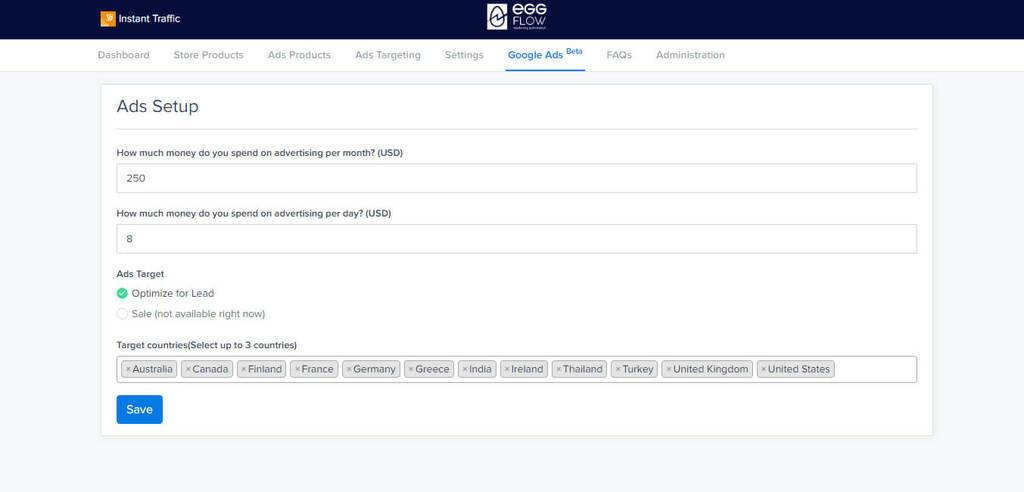 Besides, Instant Traffic uses data collected from Shopify Google Ads conversion tracking on user devices, location and time of day to determine the best bid for you.
This may be one of the highlights that many merchants have a limited daily budget need because it helps merchants avoid the risk of diminishing returns.
Automated Ads Creation
As the list of products and services that you want to advertise more and more constantly, automatically creating ads can save you a lot of time and money, especially with the Google Display Network (GDN).
Unlike other advertising apps in the Shopify App Store, "Google Ads for Shopify" feature of Instant traffic automatically creates attractive display ads for you based on available templates.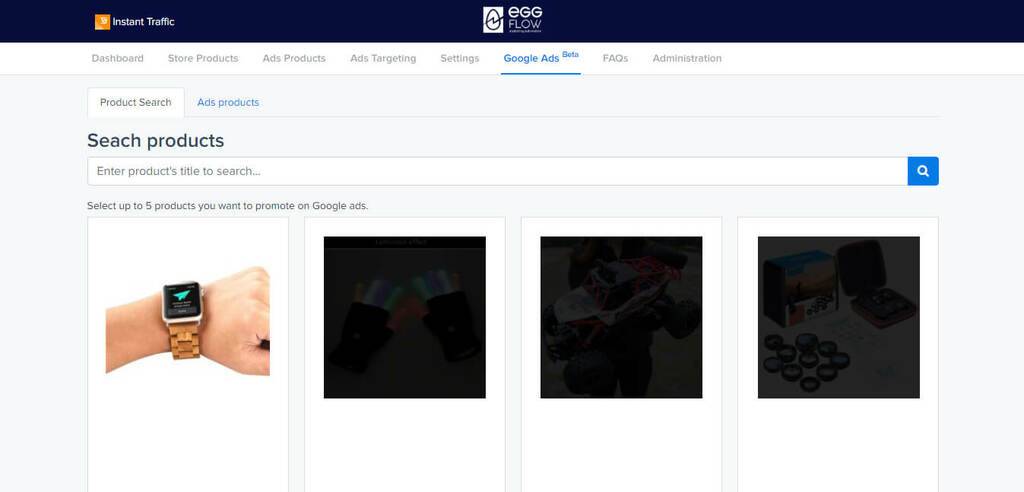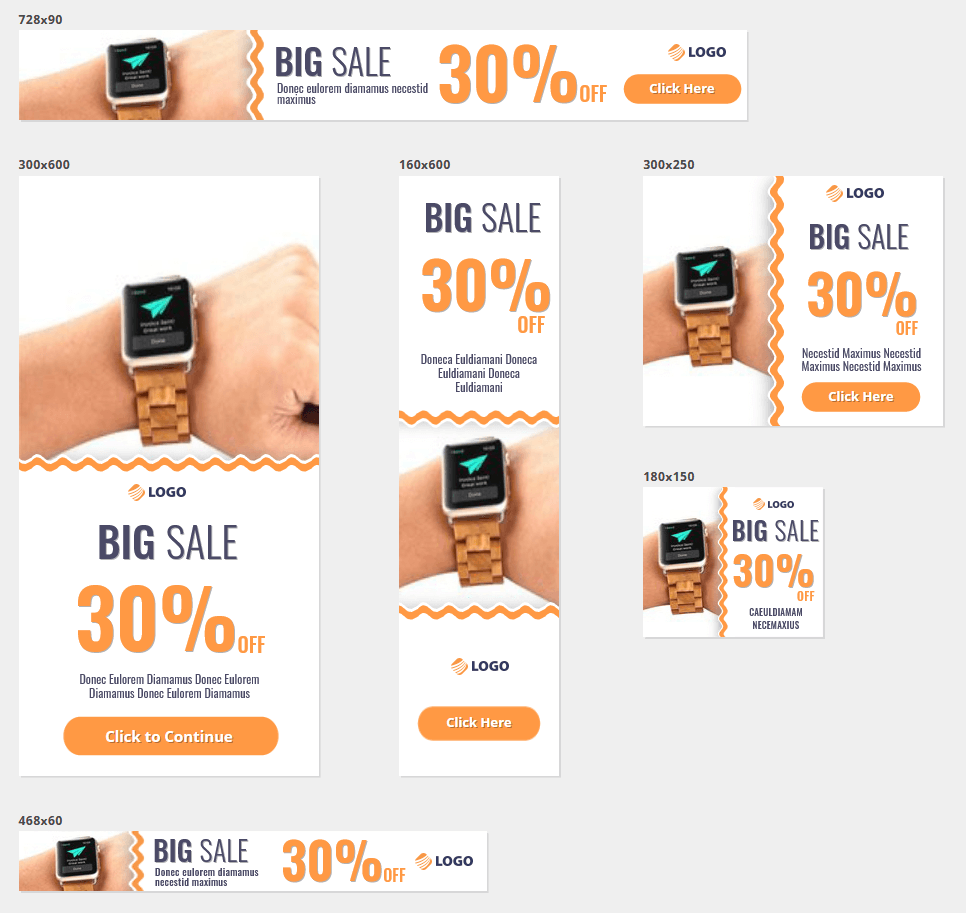 Instant Traffic will base on your Shopify sources like product information, product images or promotions,… and automatically create motion banners in the form of HTML5. This HTML5 format allows banner ads to be flexible when compatible with any device such as computers, phones, tablets. Therefore, you can easily reach out to your target audience.
Track statistics in one place
Instant traffic allows you to track reports on the number of users reached, the level of conversion, cost, … in a single convenient interface. You do not need to use additional integrations or third-party analytics to track conversion rates.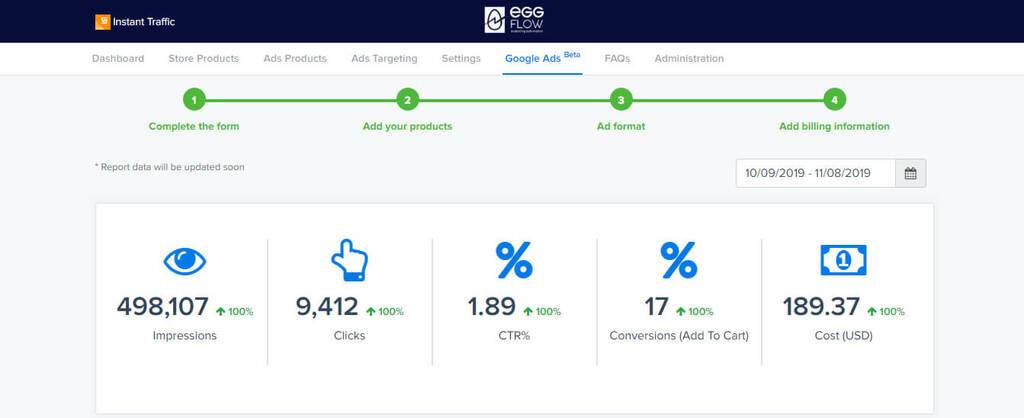 Try the new Automated Marketing Solution from Instant Traffic Now!