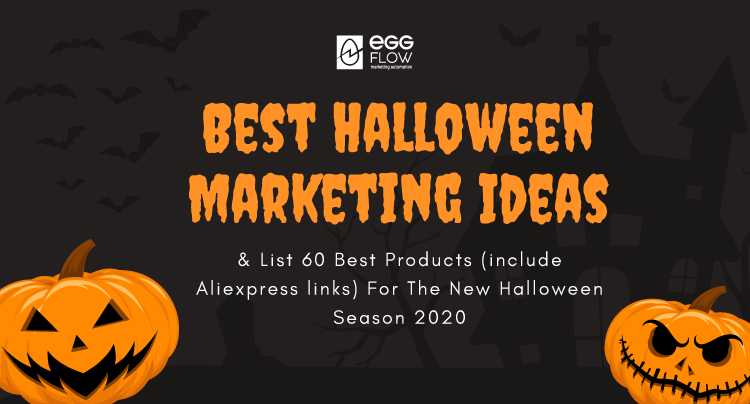 Best Dropshipping Products & Ideas To Boost Sales on Halloween 2020
Every year, the holiday season has always been the most anticipated time period for every merchant and retailer as it is the prime time for consumers to start spending more on their needs. Since customers are willing to spend more during these times of the year, we as the suppliers need to understand our customers so that we won't miss out on opportunities to drive sales and boost your traffic. 
As you may already know, Halloween is of the utmost important holiday along with others such as Christmas, Thanksgiving, and Easter, it is the first holiday at the end of October that kick starts the holiday season of the year. Furthermore, it's not only popular in local markets but Halloween is now also celebrated in many countries across the globe. Since catching up with trends and holiday seasons is always a crucial part of an evergreen marketing and sales strategy in eCommerce, online merchants need to implement the best practices for your store with the aim of boosting your revenue to its maximum potential.
For this upcoming Halloween season, Eggflow would like to share with you some of the best ideas that you can start implementing now to drive sales during the holiday season.
6 Best Dropshipping Ideas To Boost Sales on Halloween 2020
1. Give a pinch of spookiness to your Shopify Store
You might have already been familiar with the Halloween season decorations among physical stores and traditional retails. However, since there is a high chance that if you are in the eCommerce industry and most of you don't really own a physical store, it's still crucial to revamp your online store for the purpose of carrying on the holiday spirit. 
There are a couple of tactics that you can use to decorate your online store to attach more customer: 
Adding Fun & Halloween elements to your website. Such as Halloween themed banners, Halloween themed logos. 

Using Halloween design icons for Call to action buttons and sale stripes to attract customers.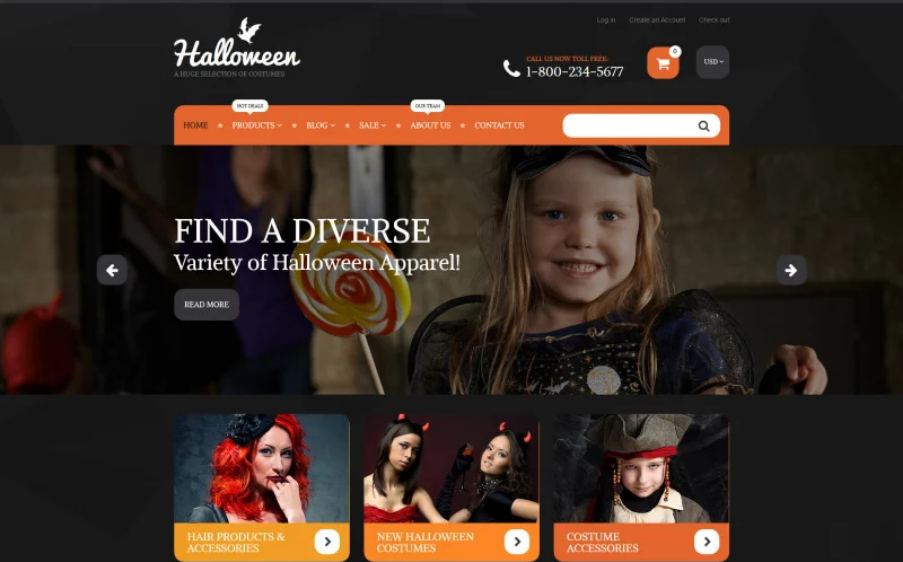 2. Be selective with your product sales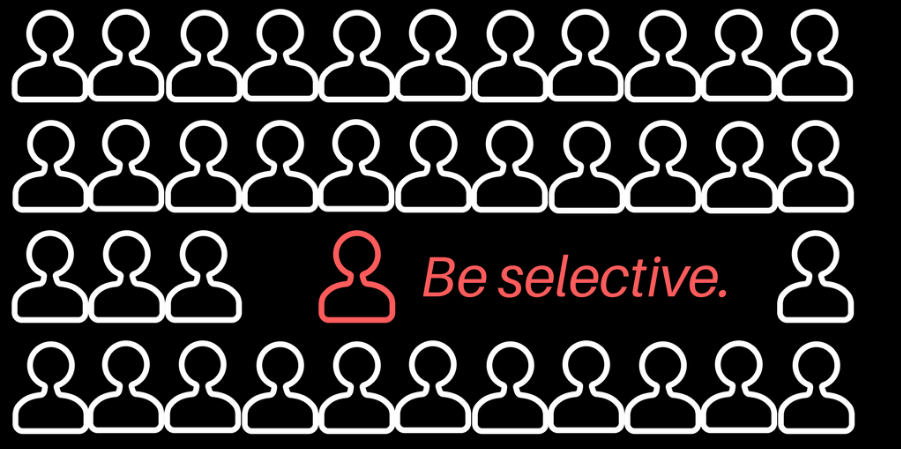 Now that you know how to catch the attention of your potential customers with your Halloween spirit, the next step is to make a list of all products that you want out on sale especially for this Halloween season into one category. 
It's also important to note that what you choose to present to your customers can leave a great impact on their first impression because you want them to come back for more during the next follow up holiday events leading towards the end of the year. So be mightful and be selective when choosing products that you want to put on sale for this Halloween season because it will be the key to achieving your holiday sales goal. 
3. Gathering the right insights before running a marketing campaign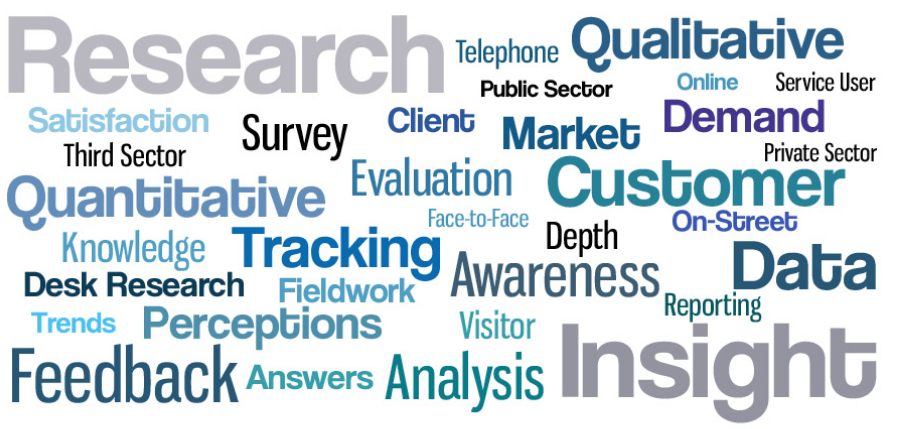 This practice can be used in every single campaign for your online shop and it is considered to be one of the most important key elements for success. It doesn't matter if you only run an ad campaign on Google Ads or Facebook Ads, invest your time in defining your target audience and research major keywords for your campaign because only when you have gathered enough insights and data, you will be able to run your marketing campaign efficiently and effectively. 
Since your main focus should be narrowed down specifically regarding Halloween season, analyze your products first to see which you want to put on your campaign and then research and list down all of the relevant keywords to support your ad campaign when you run it. 
4. Drive sales with pop-up flash and urgent discounts
Since the main focus of your campaign is to get the attention of your current audience and potential customers, the holiday season is always the best time to bundle up with discounts and free giveaway. Online shoppers are usually smart with their spending, they will often research and compare deals and prices on multiple platforms before they proceed to make the purchase. Because of this, you have to catch the attention of your potential customers from the get-go. 
Using flash deals and discounts can be very useful as it creates the tension and urgency for shoppers and makes them feel that they will miss out on good deals if they don't make the decision quickly and the closer the countdown is going to end, the more driven force the customers will feel. These are commonly known tactics that have been proven to boost sales quite efficiently.
To create an engaging and attractive pop-up doesn't take much effort in today's world, you can simply set up a pop-up banner for your amazing deals with just a few clicks. Smart Popup will help you create and set up pop up banners for your Shopify store at ease without any hassle. 
Create your pop-up now for Free with Smart Popup:
5. Implement a cross-sell tactic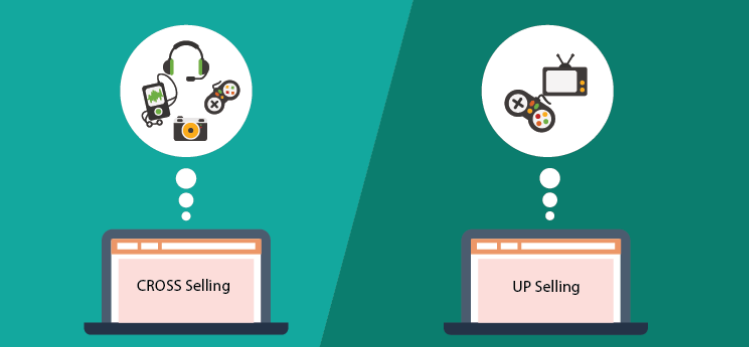 Now that you know how to set up a great flash deal, it's time to bundle up and boost your sales with cross-sell strategies. So the best practice for this strategy is to combine other products and sell them in bundles along with your special deals for the festive. 
However, using this strategy doesn't mean that you can just mix and bundle up any products together without planning your cross-selling campaign carefully. It doesn't have to be products that are related to Halloween such as Halloween decors or Halloween costumes, your Halloween Bundle Deals can take advantage of your Halloween Flash Discount or Special Holiday Discount to upsell products from your store and create relevant sale deals among them to attract your potential customers. 
There are 2 common methods when it comes to bundling up your products: 
Make a well-planned bundle. The main product should have accessories or minor products that can be included within the deal. 

Make a list of other products that you would like to upsell and bundle them up with your best sellers. 
There are tools that you can use for your cross-sell and upsell tactic as well. You can consider trying out our Instant Upsell which can help with in-store discount codes promotion. The app does so by advertised available coupons to site visitors in the form of announcement bars. If there is a time limit, a count-down timer will also be added for a sense of urgency. This app can be very useful and handy during holiday seasons. 
Start boosting your sales with Instant Upsell for Free now
Social Media is your number one tool when it comes to budget marketing or any marketing campaign in general. We are all aware that social media can be very effective if you use them wisely. In these types of holidays and events, another best way to reach out to more audiences and potential customers is to host a giveaway or contest on social media. It's Halloween so let's trick or treat! 
There are a few things you need to prepare and consider before hosting a giveaway: 
Define your main Goal and budget for your contest or giveaway.

Choose what type of contest or giveaway you want to carry out. Example: Photo contents, Video contests, Captions contests, etc.

Create an attractive and exciting prize pool. 

Build a strong foundation, rules, and structure for your contest. 

Determine the duration of your contest.

Promote and engage

Keep track, analyze, and reflect the results. 
Since this tactic has been used quite frequently on social media and it is commonly used among most marketers and eCommerce merchants nowadays, there are many tools across Shopify App Store that can help you set up a giveaway or contest campaign easily.
Instant Giveaway is a tool for creating social media contests in which participants compete for the award and giveaway you offer by sharing the giveaway page. The winner is the one with the highest points. It's a simple concept and easy to set up with minimum effort which you can try for your upcoming contest. 
Start setting up your contest now for Free with Instant Giveaway now
Here is a summary of 6 practices that you can do for this upcoming Halloween: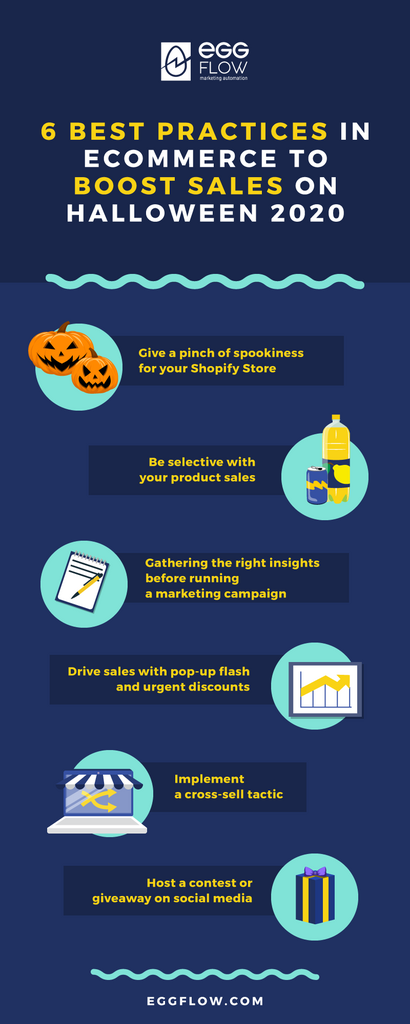 List 60 Best Dropshipping Products (include Aliexpress links) For The New Halloween Season 2020
To help you out with coming up with the best strategy for your upcoming Halloween Sales Campaign, Eggflow has gathered and analyzed a list of suggestions for drop shippers and eCommerce to try out for this season. To download the Excel sheet, click the link down below and Have a Spooky Halloween!