14 types of Facebook ads for your marketing goals
Before creating an ad campaign, you need to determine what your ad objective is and create a corresponding ad type. In the following post, we will list the top 5 common goals and the 14 types of Facebook Ads to use for each.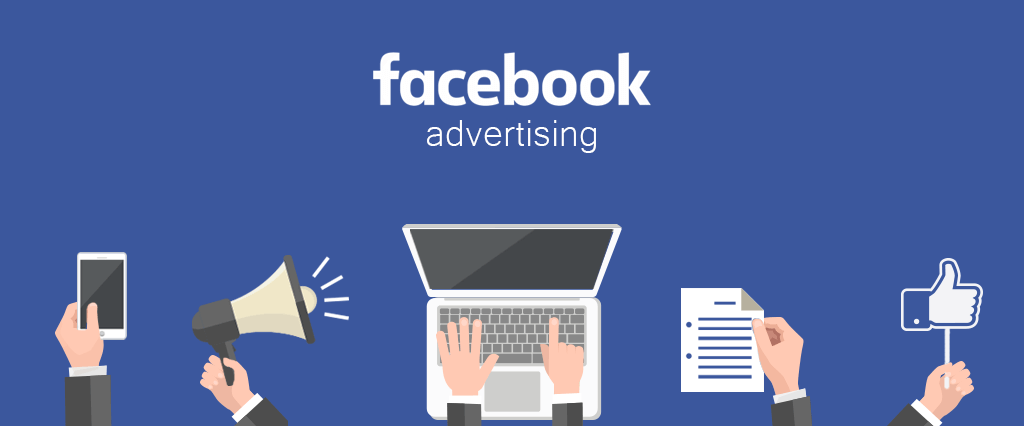 Objective 1: Attract customers to your own site
One of the most popular uses for Facebook Advertising is to increase traffic for websites. You can either increase the overall reach of the website or take users to a separate landing page where they can buy products, sign up for a newsletter or subscribe via email, phone, etc. 
For attracting website traffic, there are the following types of Facebook ads:
1. Domain Ads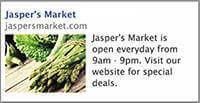 Domain Ads is a form of advertising for a website that integrates with a Facebook Fanpage. When visitors click on the ad, it directs them to the website or page. Among many forms of Facebook ads, this is the simplest one. Domain Ads usually include a title, a short description and the website link.
Domain Ads has the advantage of low cost compared to the rest. However, the downside is that Domain Ads is displayed only on the right side of the newsfeed and is not available on mobile.
2. Page post + link
Page post + link is the most popular form of advertising of all. A post allows the advertiser to put their website link alongside large, attractive images which is a great way to catch the attention of users.
Beside increasing website traffic, page post advertisement has the double benefit of increasing interactions for the post and its corresponding fanpage such as like, comment and share.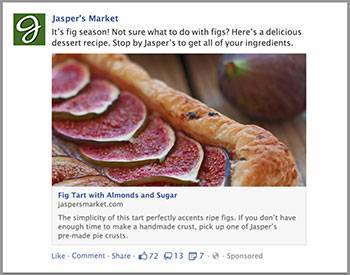 Objective 2: Sell a product/service
3. Carousel Ad
This powerful ad type can double your sales on Facebook if used effectively. Carousel allows you to advertise 5 different product in one same sponsored post. Each image has a title and product description line of its own. By offering more options, carousel entices and enables customers to browse without having to visit your site.
In addition, with this type of promotion, you can remarket to visitors who have not yet converted in your Fanpage or Website.
Tip: Carousel works best for products that are related to each other. You can choose products that have the same theme or the same design (with one of them being a well-performing item you have tested before acting as a "bait").
Displayed on the desktop: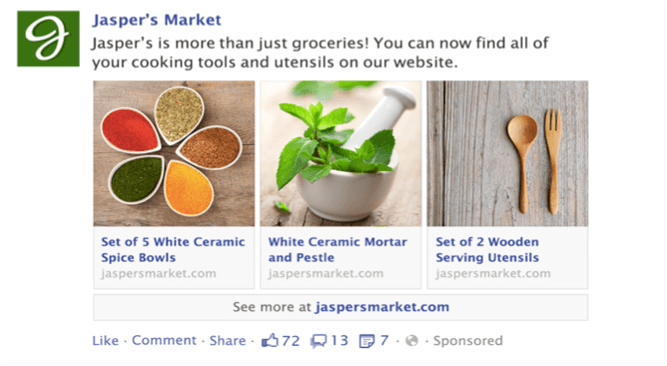 Show on Mobile: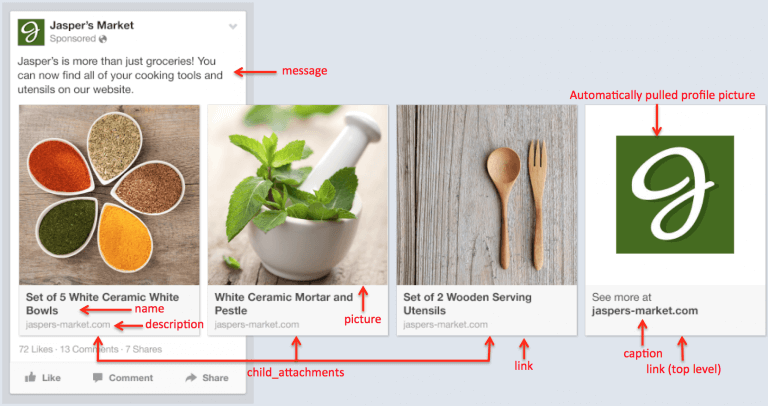 4. Dynamic Product Ads (DPA)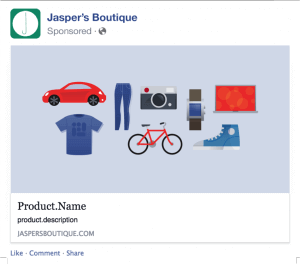 Dynamic Product Ad is an advertising solution to help businesses make ads for a large number of product categories. For each time it is delivered, Dynamic Ads content is changed based on a users' product viewing history, thereby better target the right people at the right time.
All you have to do is upload your product catalog and check Facebook Pixel to make sure things are alright, then Facebook will handle automation and re-targeting.
Note: The product each person see corresponds to the product that they have looked at before.
5. Lead Ads
Introduced in 2015, Lead-Ad is unlike many of Facebook's previous advertisements. With Facebook Lead Ads, when a user clicks on the Call-To-Action button, a form will appear for users to fill in information without having to move to another page outside Facebook.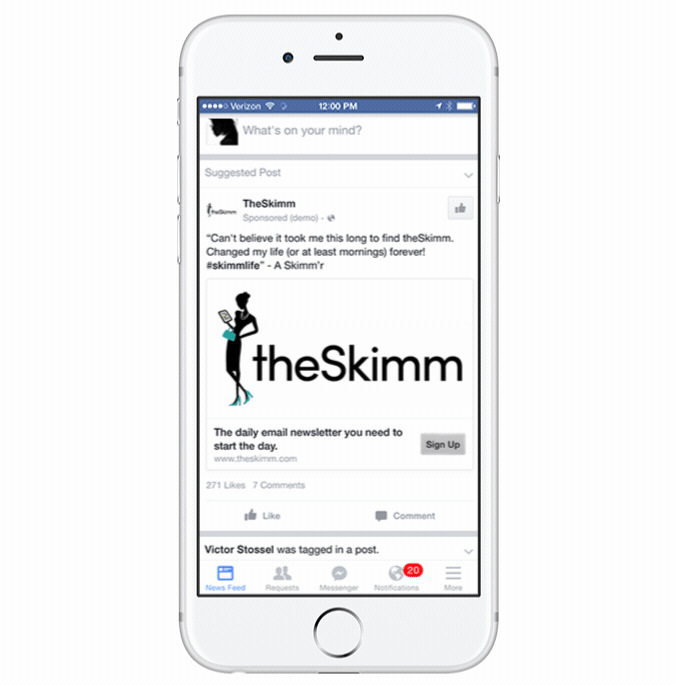 Lead Ads is available for both desktop and mobile and is a great way to help you build up an email list quickly.
6. Canvas
Canvas Ads can be considered as an upgraded form of Carousel Ads
When a user clicks on an ad, Canvas Ads expands to full-screen size, bringing users into a superior interactive experience without having to leave the Facebook interface. In a Canvas Ads, users can swipe across the screen to see the sequence of images displayed, rotate the device to view a full picture or zoom in to see details of the image, making the experience more engaging and attractive than a simple website interface.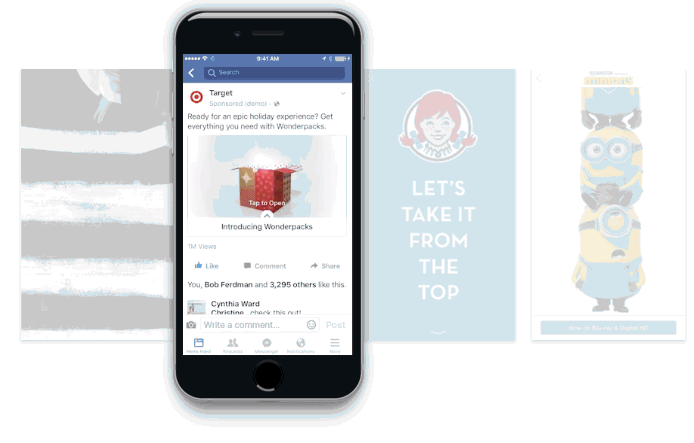 With a widely customizable interface that provides great user experience, Canvas Ads opens up indefinite creativity in creating Mobile Marketing campaigns on Facebook.
>> Read more:
Objective 3: Increase interactions for Facebook Page
7. Page like
The purpose of this ad is to increase like for your business fanpage. It can be displayed in multiple locations: right column, on newsfeed and on mobile.
A page like ad looks like below: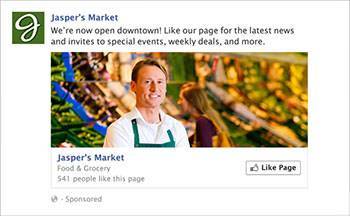 8. Page Post + Photo
This is the ad with the most space to display beautiful images of your product or service. In addition, you can insert a link in the article's description text (or in the comment section). With this type of ad, you should not write too much text. Instead, make heavy use of the images to attract like, comment and share.
9. Page Post + Video
Similar to Page Post Photo but instead of a photo you will run ads for Video post. Because video takes more time and effort make, the disadvantage of this ad type is that the cost of creating a professional video is quite expensive. In return, quality video can drive up very high engagement. This type of advertising is easier to attract people's interest.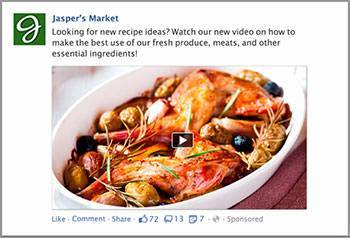 10. Page Post + Text
This is an advertisement with only text that does not contain images, videos or links to the website. This type of advertising is hard to get right: it initially appears less attractive than a photo or a video to a person browsing Facebook. Unless your content is really meaningful, trendy or can create great interest, people usually just skip through text.

Objective 4: App installation on computers and phones
11. Mobile app
As the name suggests, mobile app ad specifically aims for installation of phone application (App on ios or android for example). When using this type of ad, make sure that you aim at the correct device your target users are using, ensuring their phone are compatible with your application. 
The ad includes an image, Fan page name, Application name and a call-to-action button (usually Use App or Install Now). When a user click on the ad, they will be redirected to the application or game installation page, etc.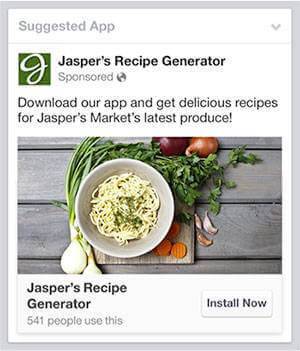 12. Desktop App
The purpose is to increase the amount of application installation on the computer. Just like on Mobile, advertising aims to increase users to install apps/games on their computers: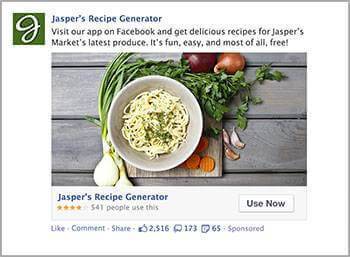 Objective 5: Create events or promotions
13. Event
With the event promotion ad, it will help you show the event name, the number of sign-up participants, the time of your event, your Fanpage name and description. In addition, you also have a Call To Action button to invite everyone to participate. 
A unique feature of this ad is that a participant can invite other people to join. Better yet, when a person clicks the join button, your ad may show up at their friend's News Feed. So you both get page interaction and more people knowing about your event at the same time.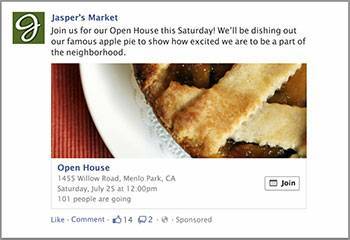 14. Offer
This type of advertisement is used to give discount codes for members of your Page. For a Facebook Offer ad, the minimum requirement for your Fanpage likes is 50 likes. 
On the advertisement, it shows you the promotion title, description, duration, number of registered users as well as your Fanpage name.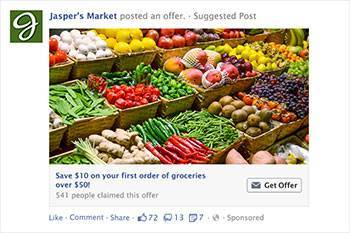 Conclusion 
Facebook has many types of ads suitable for different advertising purposes and types of goods/services. Choosing the right type of ad that aligns with the goal of your business strategies will yield high-quality leads as well as boost your brand recognition.
Some information about Facebook ads you may want to know: post+link ads are the most popular (74.8%), followed by up to 15.1% of video ads, 8.2% of image ads and other types of advertising only occupy about 1.9%. Yet, keep in mind that the choice of advertising should be based on targeting and customer insights should not always need to follow the popular trend.