Facebook Lookalike Audiences – A Great Tool For Expanding Your Target Customer Base
After you have identified a perfect target audience, you would run ads on that audience everyday, right? But eventually you found that your ads are not as effective as before. Turns out, if you run ads for the same audience every day, they will get tired of seeing your ad. Always think about refreshing your audience by finding more potential customers. One of the tools you can use to do this is  Facebook Lookalike Audiences and today we will find out more about it.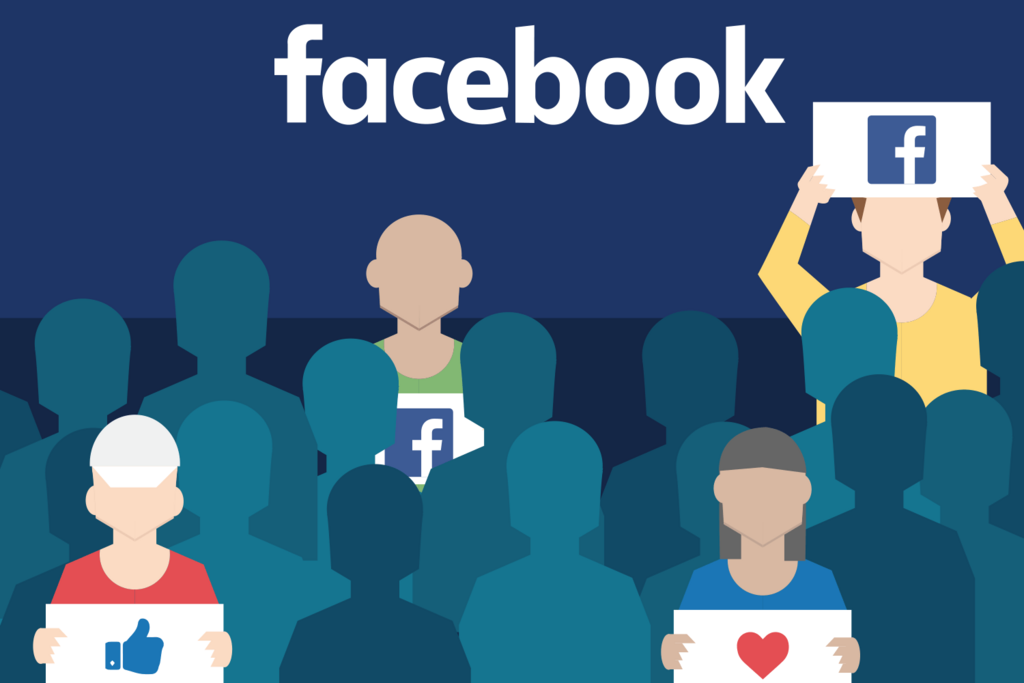 This article will include:
What is Facebook Lookalike Audiences?

Effect of Facebook Lookalike Audiences

How to create a similar object file

Tips for maximizing the same object
Facebook Lookalike Audiences is a tool that allows you to expand Custom Audiences files with similar properties, people with similar interests so you can reach more potential customers.
Facebook Lookalike Audience helps reach people like existing customers.
What is Facebook Lookalike Audiences and how effective is it?
Advertisers all have similar problems such as running a campaign to increase Page Likes and then have to seek new UID (Custom Audiences) lists every day because the old one runs out.
What if you ran out of lists, or the target audiences effectiveness was decreasing, or you wanted a larger audience file to boost conversion?
Facebook Lookalike Audiences is one of the most effective solutions for this problem. Facebook Lookalike Audiences allows you to expand the original list to reach more people who have similar needs, interests and characteristics to your audience.
How to create a Facebook Lookalike Audiences list
Step 1: Open your Ad manager, then select "Audience" under Assets in the dropdown menu: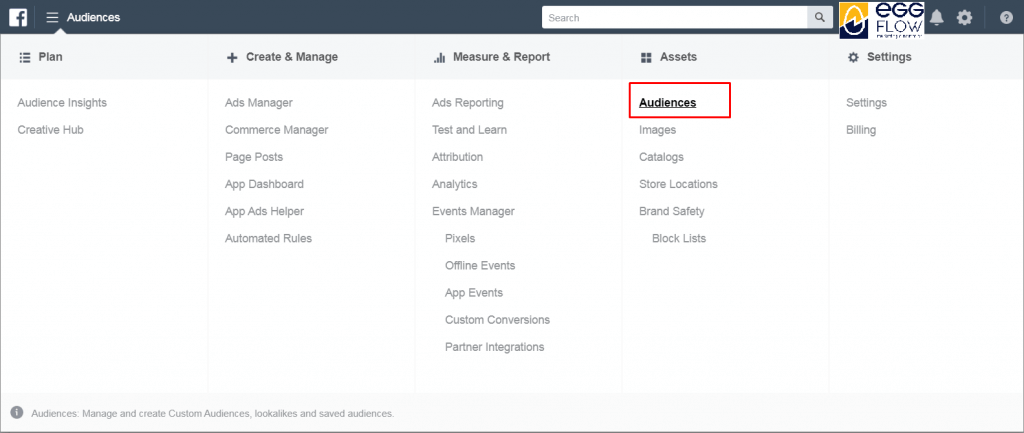 Step 2: Click on "Create a Lookalike Audience" button: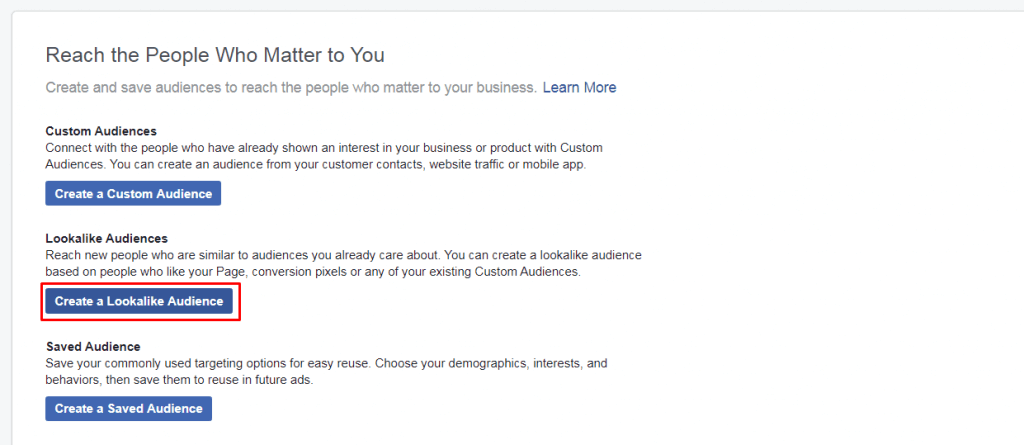 Step 3: A window for you to create an object will pop up: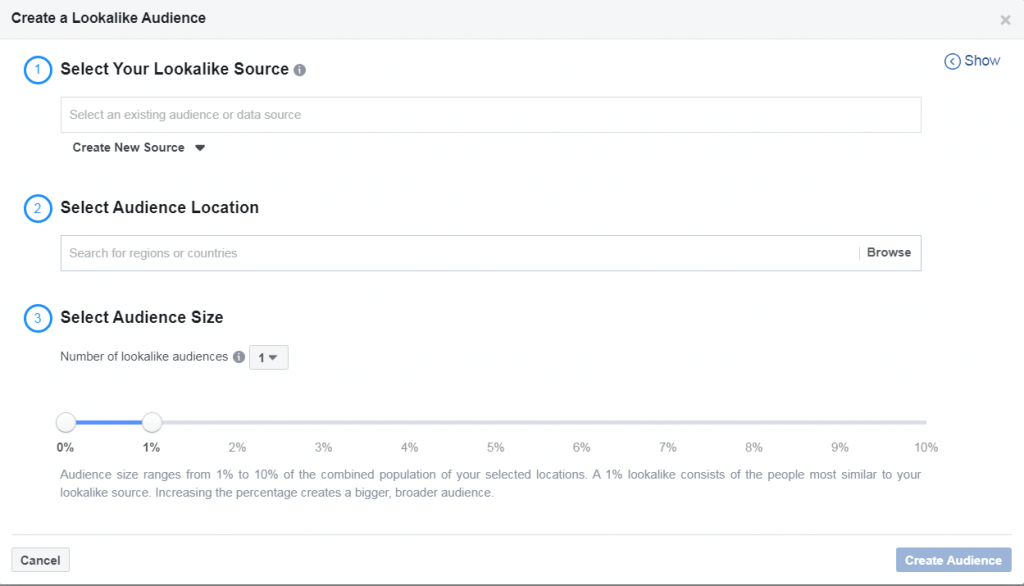 Lookalike Source: You must select a source you want Facebook to create a Lookalike Audience from. You can set a sample from your previously created Custom Audience, import an external audience file or choose from sources like App events and Fanpage. A requirement is that the source must consist of at least 100 people from the same country.
If you don't have enough audience for sampling, then it's best to focus on building up traffic and collect customer data first.
Country (Country):

If you want to restrict your Lookalike Audience to certain countries, fill in this field. You can only select more than one country at the same time. If you do so, the final Lookalike Audience will be combined from all your selected countries.

Audience Size:

This is the section you choose the size of the Lookalike Audience. The more you pull to the right side, the larger the set will be and vice versa. Note that the larger the "Audience" is, the less "Lookalike" it will be. Meaning the smaller the size, the more accurate the Lookalike Audience will match with your original customer set.




You might want to create more than just 1 set of Lookalike Audience with various degrees of similarity so that you can have a suitable bidding option for each. (They are not overlapping so don't worry)
Finally, click the "Create Audience button and Facebook will begin processing. About 30 minutes later, the result will appear in the "Audience" section.
With that, you have completed the steps to create a Lookalike Audience.
>> Read more:
"Custom Audience" vs "Custome Audience with LTV"
What is Custome Audience with LTV?
As stated above, you can import an audience file you have outside into Facebook to create a Custom Audience. Then you can take that Custom Audience to be the source of your Lookalike Audience. However, with that method, the Lookalike Audience will seek out people similar to ALL of your customer indiscriminately. What if I tell you that you can make it specifically seek out people similar to the top spenders of your store?
That is where Custom Audience with Lifetime value (LTV) comes in. It is like an advanced version of the normal Custom Audience. A LTV Audience file looks like the normal file, but with the addition of a "value" column at the end.


The "value" here is a number of the net profit that you predict a customer will bring to you over the course of the relationship with your business. Each business should have their own way to calculate this since every market has a different product life cycle. In general, the factors that contribute to the final value number are:
How often does/can a customer buy from you?
How much a customer spends on each purchase?
How much do you think a customer will buy from you until they never come back anymore?
How long do you think a customer will stay with you?
(Don't just guess vaguely! Open your Shopify report and make an informed prediction.)
LTV Custom Audience vs Value Optimization
Value Optimization is one option in "Optimization for Ad Delivery" that you can choose while creating a campaign. When bidding for showing ads, the system will prioritize to bid for Facebook users who it perceives will bring the most value to your business. Note that this option has some requirements and is not be available right from the start for first-time advertisers.
So when should you use LTV-based Lookalike Audience and when should you use Value Optimization? Can you use both? The answer is yes! I'll explain more below.
Here is the difference between the two: Value Optimization predicts how much profit a person will bring to your store in a range from 1 to a maximum of 7 days. It can't predict further than that. Meanwhile, LTV-based Lookalike Audience can account for up to 60 days of purchase behavior.
Therefore, if your customers have a purchase cycle longer than 7 days, then Lookalike Audience is a recommendation. If your customers LTV is easy to predict within 7 days, then a Lookalike Audience combined with Value Optimization goal is recommended.
Tips for maximizing benefits of Lookalike Audience
After you have created your Lookalike Audience in 3 simple steps as above, make the best of them using the following method:
Target the same ads to each newly-created Lookalike Audience with the original bid.

See how effective your ads are based on Return on Investment or Lifetime Value of each customer in the Lookalike Audience.




Note: In general, the more accurate Lookalike Audience will yield better profit. However, this may vary depending on the quality of the sample file and the nature of the target audience

.

Modify the bid for each audience based on the results (increase bid for a higher value audience and lower the bid for a lower-value audience)
Conclusion
When creating Facebook ads, the second most important factor after the core product is the audience. They are the main factors that determine the content and the effectiveness of your ad. Facebook Lookalike Audiences is one of the extremely effective tools for extending your target audience and increase ad performance. When the ad reaches the right audience, the click-through rate (CTR) and the conversion rate (CR) is high while the cost of ad delivery will be much lower.