What is Instagram? How can I sell on Instagram effectively?
Instagram is a potential mobile application for businesses to connect with users in a better way. In this post, let's learn with Eggflow what Instagram is and how you can sell on Instagram effectively.
What is Instagram?
Instagram is a social network focused on sharing photos and videos, so it also offers various photo and video editing modes depending on user preferences.
Like Facebook or Twitter, when creating an account on Instagram, users own separate profile and newsfeed. When you post photos or videos to Instagram, it will be displayed on your profile. Other users following you will see your post on their own newsfeed. Similarly, you will see posts from other users that you have chosen to follow before.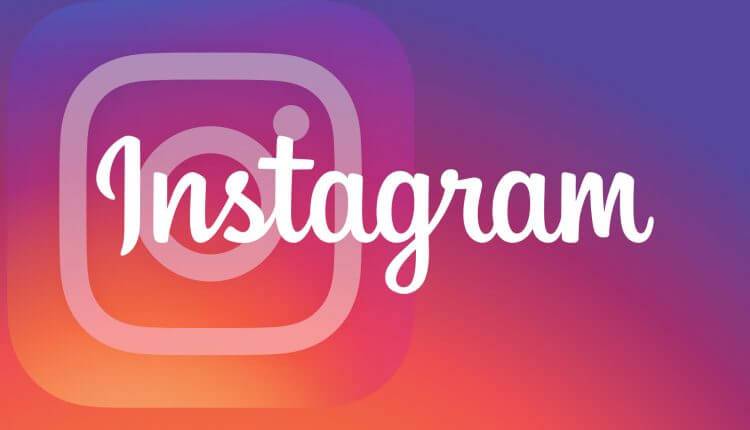 In other words, Instagram is like a simplified version of Facebook, focusing on sharing images for mobile users. Aside from that core feature, other interactions you can have with others on Instagram are: following, being followed back, commenting and liking  under posts, tagging and private messaging. You can also save the photos that you like.
Why should you sell on Instagram?
It is undeniable that Instagram is one of the most important social networks and if you haven't used it in sales or marketing yet, you've been missing a big revenue stream. Whether you manage social media for a large corporation, a small business or you use it to promote your personal brand, incorporating Instagram into your marketing strategy is strongly recommended! Here are 6 reasons why you should sell on Instagram:
Smartphone is increasingly becoming popular
Instagram is an application for smartphones which most people nowadays have at least one. While people used to rely solely on their computers or tablets to surf the Net, most now use their smartphones instead. Unlike Facebook and Twitter, Instagram thrives mainly on the mobile application platform. As more people continue to switch to smartphones, Instagram's potential market will continue to grow.
You can reach 100% of target customers
Since Facebook started charging for advertising activities, small businesses often face difficulties in competing with larger brands to show their ads. With Instagram, it is different: 100% of the content you post will be accessible to 100% of your "followers"; There is no way to block newsfeed content unless a follower stops the following. This means that many customers will be able to view all your photos and content, which will create better brand recognition.
Build an audience via Hashtags
As a brand, hashtags are an important tool because they allow you to directly promote your products to people who are interested in your product or service. On average, most companies use about seven hashtags for each photo they post.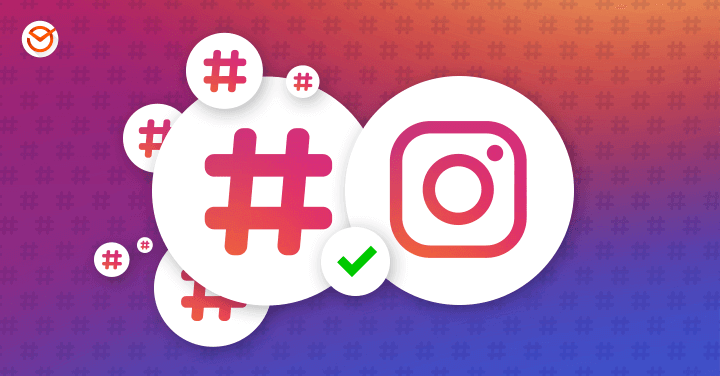 If you search for hashtags of topics that are most relevant to your business or niche, you can easily find people who specifically invested in that topic, and by extension your product or service. After that, target those people directly will save you budget and time by focusing attention on those who care.
Increase market coverage
Even if not for all the other reasons above, being active on another form of social media can increase your ability to be found by potential customers. Research based on 81% of adult Americans Internet users shows that 52% currently use two or more social media sites. This is a significant increase compared to the previous period.
To be easily found on search engines, you need to be present online as much as possible. This means using multiple channels to build your online reputation. So even if you already have a Facebook or Twitter page, adding Instagram can do wonders for increasing your market coverage.
Unleash your creative content
Instagram is basically an application for visual storytelling. There are many different effects/filters that you can add to your photos to present them in a way that tells a story about your brand. Not only that, Instagram chronological profile page allows you to tell that story over a long time. Users can go through your profile to see what your brand is about without the need to click on a specific image.
How to create business accounts to sell on Instagram
Step 1: Download the Instagram app
If you have never used Instagram before, start by downloading the application. Instagram is available for smartphones, tablets and computers through Apple iOS, Google Play and Windows app stores. This app is particularly geared toward mobile devices and you can use your smartphone or tablet for most of your posting activities.
Step 2: Create an account 
Launch the application and create an account in one of two ways:
Option 1: Register with your email address or phone number, then enter your username.

Option 2: If you have a Facebook account, you can log in with the same information and link two accounts together.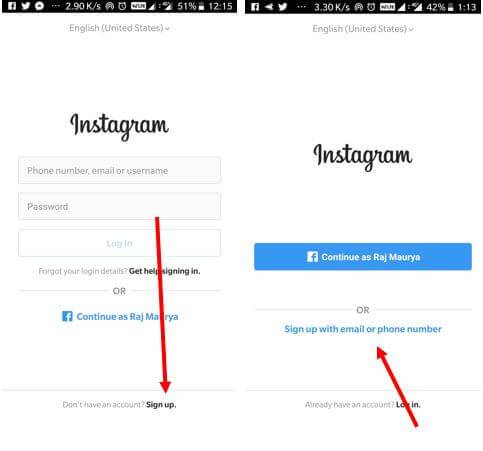 Step 3: Link with your Facebook account
By default, you start with a personal account. To use Instagram for business purposes, you must connect your account to your Facebook business page.
Clicking on your avatar at the bottom right of the screen to go to your profile. Next, click on the gear icon on the top right corner of the page to open the settings menu. On the next page, scroll down until you see "Switch to business profile". Keep clicking through the tutorial slideshow until you receive a prompt to connect to Facebook.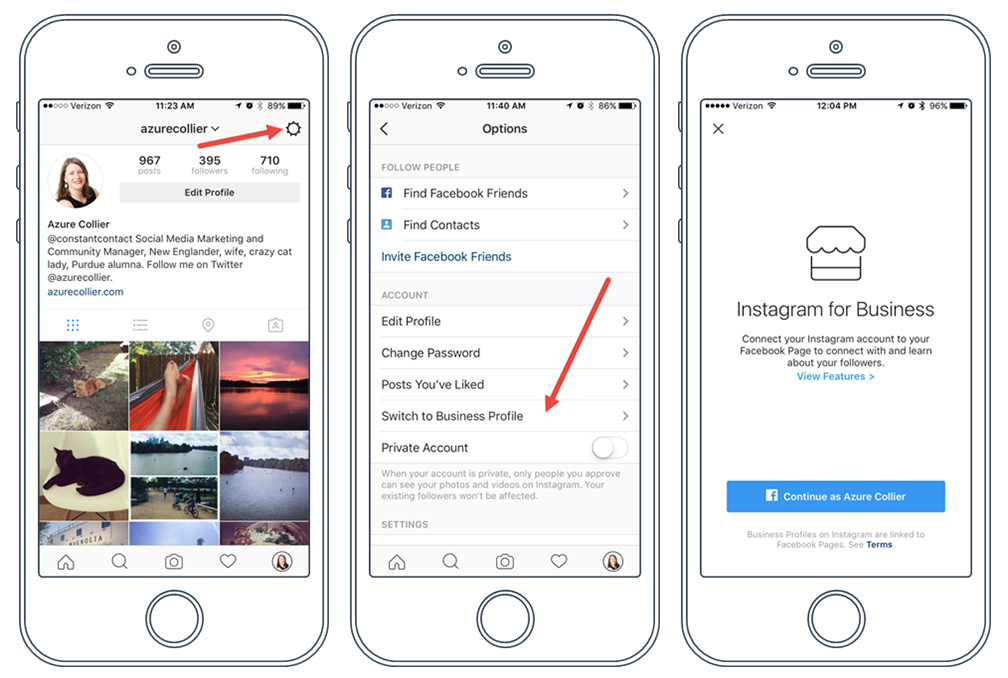 Next, Instagram will ask for permission to manage your Facebook pages. Select the page you want to connect from the list of your Facebook business pages and click Next. Note that only an administrator on the account can complete this step.
Step 4: Create a new business page to sell on Instagram
If you have created a business page on Facebook, you can set it up on Instagram at the same time. When you get the option to select a page, select "Create" at the bottom of the screen. Set a title for your page and select the category that best describes your business.
Step 5: Complete your Instagram business profile
Touch the profile button at the bottom right to view your account, then click the Edit your profile button. This is where you can complete your profile information.
Your profile is the only place you can place a URL – it is best to use it to direct people to your site.
Because the profile section has a limit on the number of characters, you would need to briefly summarize what you do and what your business is about. Note that you can edit this section whenever you like.
4 tips for selling effectively on Instagram
Optimize business profile
Instagram's business profile is becoming the new homepage as more and more consumers switch to Instagram instead of Google to search for brands. This means you should spend a lot of time and effort managing and creating content on Instagram like on a regular website.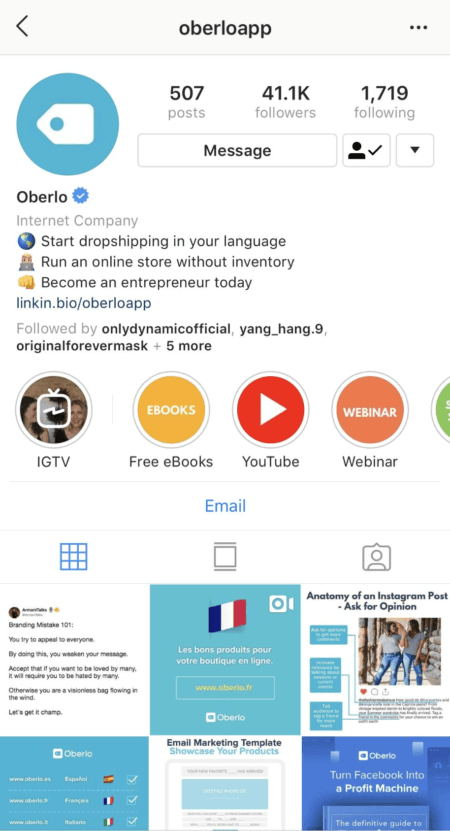 Your Instagram business profile should include:
A profile picture

: Choose a brand image (such as a logo) and help your company easily identify.

Profile description

: Your Instagram profile is extremely important. It should include a clear description of your business and let visitors know exactly what you can offer.

A live link to your store

: The URL section of your profile is the only place in your Instagram page where a clickable link can be added. This is a great place to attract website traffic from your posts and story. Creating a unique URL just for this section will also allow you to track how many visits to your website are from Instagram.
Business profiles on social media like Instagram are often the first touchpoint for customers. Therefore, it is important to make a great impression and entice people to follow your business. With a consistent and aesthetic brand story, you can turn new customers into loyal followers, which means they are only a few steps away from investing in your product.
Cooperate with Influencers
Influence Marketing is a marketing method that you should not miss when selling on Instagram. If your products are associated with influential people, it will help increase brand awareness and increase market coverage effectively.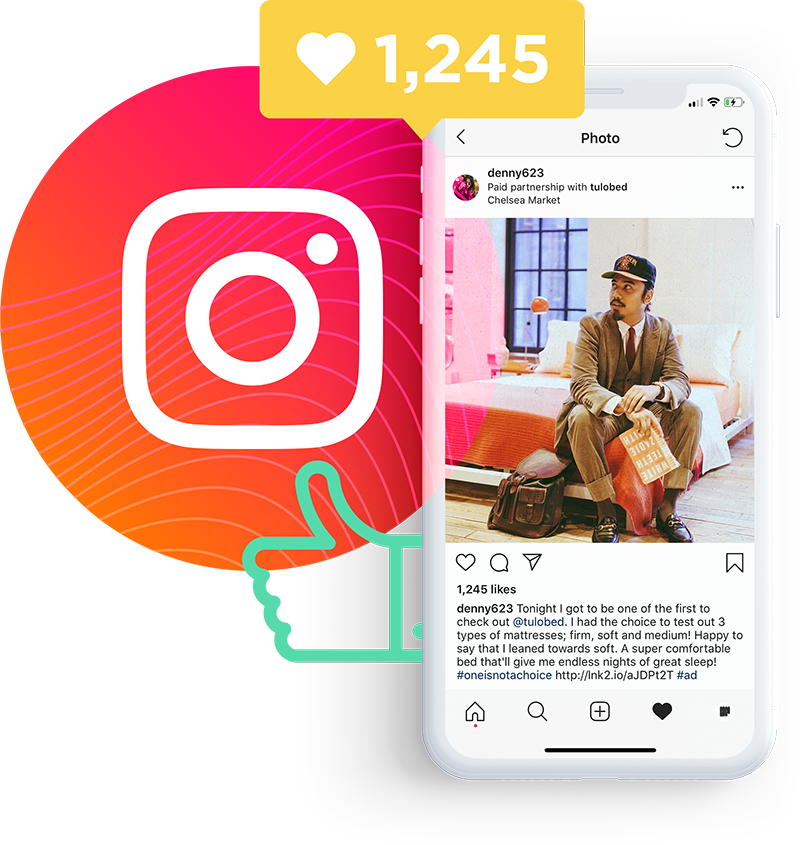 If you only want to spend $100 on a campaign with Instagram Influencer, you can choose Influecer with about 100,000 followers. That's 100,000 people who didn't know about your product before. This could also be a more effective strategy than spending $100 on an Instagram campaign with an estimated reach of 100,000 people.
Attach shoppable hashtags in your posts
To optimize conversion rate on posts, businesses should make use of shoppable hashtags so that customers can buy directly from posts from businesses pages or post from influencers marketing campaigns.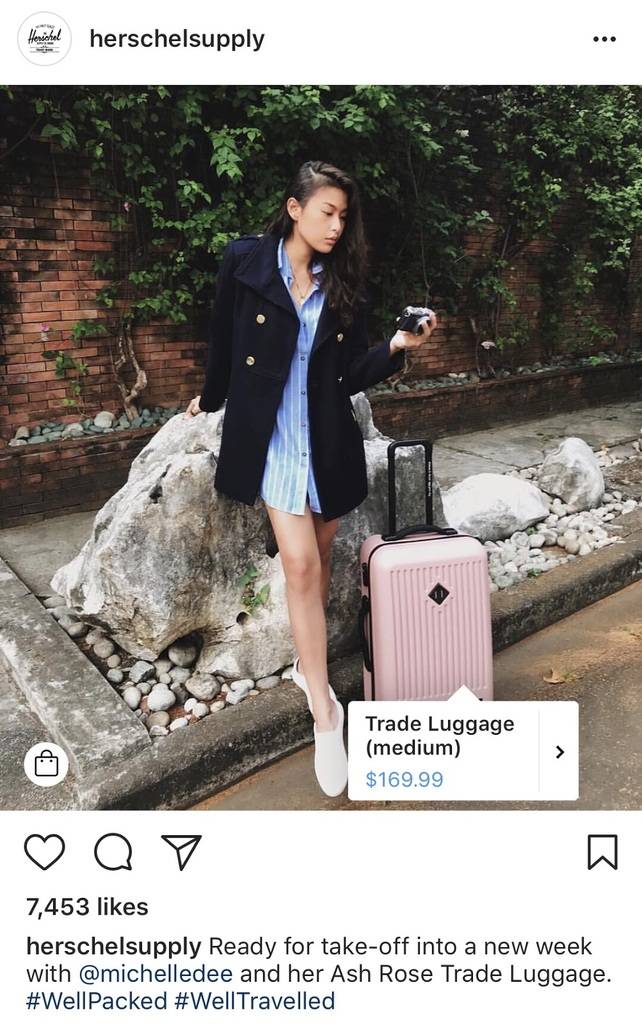 Incorporating product tagging naturally in posts from influencers is the best way to take advantage of user-generated content (UGC). Millennials' level of trust in UGC is 50% more compared to other media types. Therefore, posts from Influencers with shoppable hashtags will be more effective than posts from business profiles.
Create a separate promotion on Instagram
Instagram is the perfect place to advertise sales, launch new products or offer exclusive discount codes for your followers. You can add your ad information to the usual post or in Instagram Story to encourage users to click on the link in your profile to take advantage of the offer.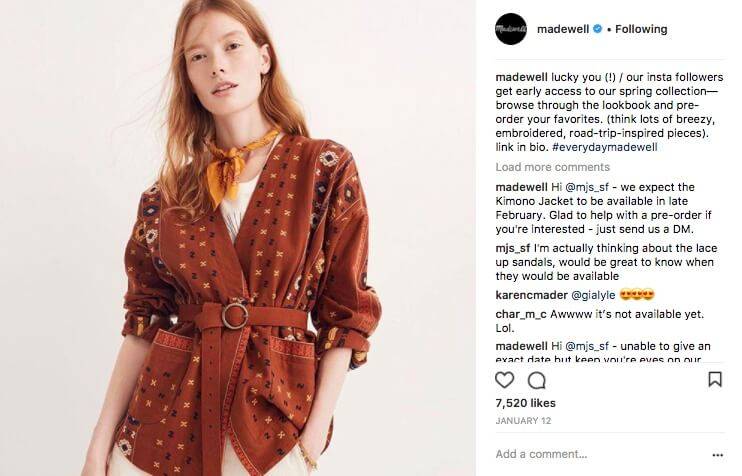 If you are running a separate ad campaign for Instagram only, you can also post about it on your other social networks to drive traffic to your Instagram business profile. Doing so will encourage users to follow your Instagram account to ensure they don't miss out on future offers.
Conclusion
People often think that selling on Instagram is quite difficult for businesses, but it is much easier than it looks. If successfully taken advantage of, Instagram can help businesses attract a large number of new leads who can become loyal customers of the business.
Source: Various