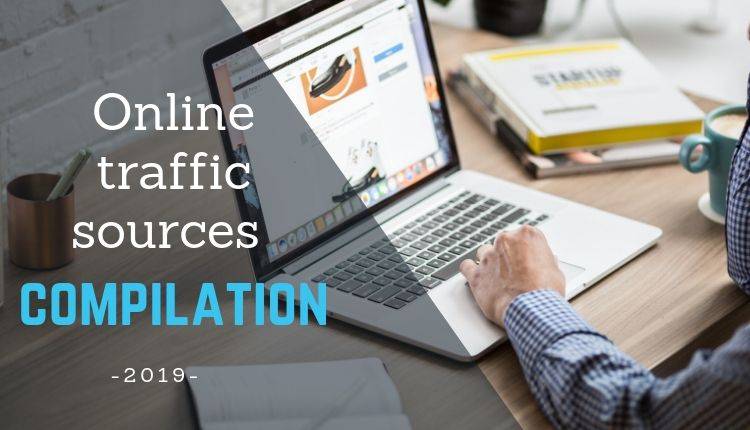 Online traffic resources and tools compilation for Shopify merchants – 2019
Increase and optimize your store traffic with these sources and tools.
Estimated reading time: 13 mins
Let's admit it: starting a shop is easy, but making it thrive is another story. After the initial surge of visits, you are seeing a plateau, or worse – a decline in visitors. So now you looking into methods to increase the traffic of your Shopify store. Even if you are a more seasoned merchant, this blog can still help you discover useful learning resources and tools that you haven't thought of before.
Traffic can be earned through many sources. To increase your site traffic, you have to know where you can earn it from first. You can either optimize and make the best out of the source you already have, or you can find new resource. Not all traffic sources are born equal, some are more suitable for your business than others (since they can have different audiences and different user culture), so keep that in mind – I will talk about this too when we discuss them below.
What's more, I'm going to include hand-picked learning resource along with a summary of what it can offer to give you a head start. As a store owner, you yourself must be armed with sufficient knowledge and have a handful of tools at disposal. I promise to pick the tools which are effective yet free to use as much as possible, assuming the reader of this guide would want to try out first before spending resources on it.
Alright, strap it on, we are in for a long way. Below are the most popular/best resource around.
How to use this compilation
Learning and practicing go hand in hand, so pin this tab, scroll down and open the link in a new window with your store on the others, then experiment things out as you go. It won't help if you just read the article, then left it at that.
Resource 1: Social media – Facebook

What is this?
The ever famous Facebook and its close family members Messenger and Instagram. This social sharing site sees about 2.3 billion active users per month. This is a relatively easy platform to get traffic from. "Easy", as in it requires less work to get into compared to the other sources.
Facebook is mostly good for impulse products – products that people decide to buy in a short time (1-3 days at most). That is not to say it cannot be used to raise awareness for other types of product, but impulse purchase is where Facebook is most effective due to its nature.
How do I increase store traffic with Facebook?
Fanpage
Facebook allows businesses to create their own fanpage. Being present online enables you to not only maintain relationships with existing customers but also make new connections as well. Having a well-built fan page profile linking it back to your site can bring a hefty amount of organic traffic and leads. You can connect your Shopify with Facebook and turn it into a sales channel as well.
One tip to build up your page followers for free: Make an admin account associated with your page. Use that account and befriend as many people in your niche as you can, then invite your friend to like your page.
Facebook Advertisement
This is the quickest and easiest way to get exposure on Facebook. Basically, Facebook ad is like fishing – you choose what lake to fish at (audience targeting), prepare a bait (your ad copy), then throw it in the water (spending money on ad budget) and hope to see the fishes coming in (getting views and sales).
You may have heard the claim that "Facebook is dead!". That is simply not true. The last quarter of 2018 saw Facebook earned 16.6 billion with ad alone. The number does not lie: their ad channel is going strong, people are paying to have they ads set up, customers are clicking on it and conversion are being made.
Where to learn about using Facebook to earn traffic?
Recommended learning sources
Shopify's Guide to Facebook Ad

:

Shopify offers their newly-updated article on what to begin with step-by-step instruction from setting up ad account to running your first ad.

Facebook Blueprint

: Facebook very own comprehensive free course about their business services. After you get a grip on the basics, this is where you should go next.


The course offers both beginner and professional courses, but I strongly recommend

the latter.

The professional course is a very helpful detailed guide into how Facebook ads operate and what factors you need to consider to make the best out of your ads. They even offer an online certificate too, though that requires some fee for the entrance exam.
Some free tool to make your Facebook advertiser life easier
Audience Insights

:

A tool for analyzing the audience you want to target. This is so you can get an understanding of your target customers behavior

on Facebook.

From that knowledge, you can make better ad copy and target your ad more effectively. This

how-to article by Hubspot

is a nice start to learning about it.

Facebook marketing

API

:

This one does not seem to be known by many people. It allows you to get more suggestions about Audience "Interest" than the 25 suggestions you get in your Ad creation page. But that's not to say you should dismiss the latter, in fact, you should use both together for the best result.
Common challenges with Facebook ad?
Facebook offers many different ways to run ads, some are more effective for you than others so there are definitely some trial and error involved before you can make a profit from this source. Many newcomers are disappointed when finding out their 10$/day ads return no sales after a week or a month of running. The trick here is to respond quickly – learn to read the data, check the ads day by day and once you have determined an ad set to be ineffective – take it down immediately.
There are other challenges too. Be prepared to face it when your ads suddenly do not spend money, or your well-performing ad gets taken down, or your ad account gets locked. Things like that can happen to any advertisers, so be aware of them.
Resource 2: Search engine – Google

What is this?
It is probably the very thing you used to reach this blog post. Google offers many products, but here we will only talk about the Search engine. With more than 63 000 searches performed every second, Google is a huge, huge leads source.
The general audience tends to buy less on impulse and care more for goods that usually require at least a bit of research and consideration beforehand. Examples are goods that are expensive or big in size like car, computer or real estate.
How do I get traffic from Google?
SEO – Search Engine Optimization
Despite the fancy name, it all boils down to getting the giant Google to mention your store to searchers as high as possible on the search result page. The more visible you are on the results page, the more likely searchers will click on your website URL. If done well, you can receive a great amount of organic traffic. 
Google advertisement
Instead of SEO, you can pay to have your web feature as the top result (with a mark telling it is an ad, of course).
The distinct difference compared to Facebook is Google offers your ads to searchers already interested in your topic. Regardless, in both platforms there is always a factor of luck throwing in and it takes time before you start getting conversion.
Google makes it clear that advertising doesn't have any effect whatsoever on your site's natural ranking. Therefore, it's best to use ad in combination with SEO if possible since if visitors are interested in your product, they are likely to search for it again.
Where to learn about using Google to earn traffic?
There are many sources to learn from, in fact, too many that can get you easily lost (seriously, try Googling them – thousands of results come up). I have picked a few credible ones to begin with below. All of them are up to date, but if you search for others then you should pay attention to the date of the article as it can get outdated and already become obsolete since SEO is an ever-changing game with new features and algorithm getting rolled out. 
Recommended learning sources about SEO
Whether you decide to hire someone to do SEO for you or not, you still need to know the basics about optimizing your website.
Google Support

:

Best to learn it right where it was born. Google has their own comprehensive starter guide for SEO which is easy to read and consists of many different parts.


You can pick it up, go practice, then come back time and time again to learn more advanced stuff whenever you are in need of new knowledge. They even said that if you read their guide well enough, you may become an expert by yourself! A recommended starting point is this

Starter guide

article.

SEOchat

: A community which provides help in SEO from beginner to advanced level. They offer various tips/tricks and case sharing from other SEO fellows.




I recommend coming to this forum only after you have got the basics down, as tips and tricks will be not effective to apply if you have not even made heads nor tails of what you are doing yet.

Google Analytics Academy

: Offer lessons on how to use their tool Analytics (more on that below) on different levels. This one has an online certificate completely free to take.
Some free tool to make your SEO life easier
Google Search Console

(a.k.a Webmaster): a free service that helps you evaluate and troubleshoot your website's performance in

search results

.




Formerly known as Google Webmaster Tools, the service was rebranded as Google Search Console in 2015. On the Internet, you may find people using both names interchangeably, but don't be confused – there is virtually no difference between them.

Google Analytics

: Another free tool from Google. This one allows you to analyze your web traffic along with visitors' actions while on your site.


It gives you a lot of different information, but the some of the most important factors to get from is which pages are having problems at getting views and retaining visitors (so you can make improvement), which pages are doing well (so you can optimize it even more), from which traffic sources are you getting visitor (so you can either optimize the ones bringing the most and improve the others).
Here is the

Guide to set it up

in your web site. But before reading that perhaps you can first read this

Medium article

for a quick rundown of it.

Woorank

:

Another tool for website analysis. But if Google Analytics offers deep insights into various aspects, this one is specifically for SEO audit. It gives data about your site current SEO status in a visualized, easy to read presentation along with recommending what actions to take.


Some features are locked behind a subscription wall, but the free version is detailed enough to get a quick, easy-to-read overview of which section of your site needs improvement. If you are feeling overwhelmed by all that info from Google Analytics, then definitely get a break and give this tool a try.
Common challenges with getting traffic from Google?
Compared to Facebook, it can take more time to get yourself acquainted with the platform. It can be quite a learning curve as there are many terms you have to get used to.
For SEO, it is a slow burn game that not only requires efforts but patience too. It is usually a problem of "death by a thousand cuts", meaning many small problems add up and drag down your rank, hence the "optimization" part in the word "SEO". Finding and fixing them all will take time and commitment for sure.
Resource 3: Other Shopify stores

Background image created by rawpixel.com
What is this?
Yes, you read it right. You can turn your competitors into partners who help each other get visitors. It is a resource that many store owners do not pay attention to. The idea is simple: by allowing other merchants to advertise their products on your website, you get to advertise on their site in return.
What makes this effective is the traffic is already of high quality – these are people with the willing of at least browsing and take a look at your store's content. Unlike other sources, you don't have to try to snatch their attention from whatever they are doing and get them into the shopping mood. Normally with ad exchange merchants only need to reach 100 people to start getting clicks (as opposed to the 500 or 1000 reach on Facebook). With more than 800000 Shopify merchants globally, this is a source of traffic not to miss.
How do I earn traffic from other Shopify stores?
Right on Shopify App Store, there are great apps that will do traffic trading for you. They usually take under a minute to set up ads and run. Better yet, most of them come with a free plan so you can try out this traffic channel for as long as you want without a single cost.
The app Instant Traffic, for example, allow you to add up to 5 products to exchange while also allow country targeting. You will also be able to change how partner's ad look on your store.
What do I need to know about traffic exchange?
You only need to try things out and decide which app best suitable for you. For a detailed comparison of the apps, you can see this Best traffic apps review my colleague Kate wrote up for you.
Common challenges with ad exchange?
There is almost no problem when it comes to this traffic earning method since it is totally free. If anything, it presents the same challenge as any other ad platform: sometimes luck is involved and it can take a while before you see the result.
Resource 4: Your own customer

Infographic vector created by katemangostar
What is this?
Your customer base is also a good source for gaining new ones. Have you been giving your customers enough attention? They can bring you valuable traffic too if you know how.
How do I get traffic from my customers?
Customer support and retargeting
Customer support and marketing go hand in hand. One common strategy to benefit from this database is remarketing. On Facebook, you can run ads with targeting based on people similar to your people.
If you don't want to run ads, there are other ways too. Creating content is one of them. For example, if you sell cooking pots, you make a video detailing how the pots can be used to cook different dishes and share it in a message to your customers after a sale. The customer then can share it with their friends, or they can recommend your satisfying service to someone the next time cooking comes up in their conversation.
Giveaway contest
Why not creating some incentives and make people mention your name to others? What's great about Giveaway contest is that the cost only comes after you have seen the results.
You can make use of tools out there to make this process easier. The free app Instant Giveaway, for example, handles all the underlying prep work of a contest: from putting up a signup page to tracking referrals. You only need to think up an inviting content and it will create a giveaway package for you.
Common challenges with getting traffic from existing customers?
This is a free and quality resource, but cultivating it will take times. In addition, creating quality content takes work, effort and research. Patience and commitment are what is most important for this to work out.
Conclusion
Often for businesses just starting out, focus on only one big channel like Facebook or Google is enough. However, when the store reaches a certain threshold it becomes necessary to expand to others to continue growing. 
Do you feel like some other sources deserve to be list in here as well? Let us know in the comment section below. I will come back and update this article from time to time.